New Jersey has received 488 requests so far for Superstorm Sandy-related claims mediation since the program's launch in May, officials said Tuesday.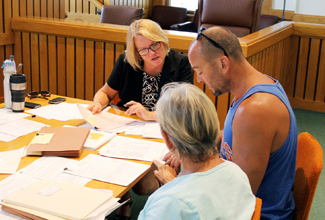 Among these requests, 223 claims, so far, have been mediated, of which 68 percent have been settled in some form.

These mediation requests came from 20 of the state's 21 counties including 193 from Ocean County. The mediation program, administered by the American Arbitration Association, seeks to address still-unresolved first party claims for Sandy-related homeowners, auto and commercial property insurance policies.

Under the program, insurers authorized or admitted to transact business in New Jersey and the New Jersey Insurance Underwriting Association are required to provide written notices of the mediation option to policyholders who have open and unresolved claims. The insurers are required to participate in the mediation process if policyholders with unresolved Sandy claims choose to take part in the program.

There are still thousands of unresolved Sandy claims in the state. Although 96 percent of the non-flood insurance claims related to Sandy in New Jersey have been closed, there are still more than 17,000 claims yet to be settled, according to the New Jersey Department of Banking and Insurance.
Ocean County has the largest number of unsettled non-flood, Sandy-related claims with 4,020. In Toms River, there are 614 non-flood Sandy-related claims that have not been closed, according to the department.
Officials are continuing to assist residents in reviewing unresolved Sandy-related claims. On Monday, staff from the Department of Banking and Insurance and the American Arbitration Association met with Toms River-area consumers to assist them in filing insurance claims related to damages caused by Sandy and review cases for participation in the state's mediation program.
More than two dozen Toms River residents visited the Department of Banking and Insurance and American Arbitration Association staff at the Township of Toms River Municipal Building on Monday to receive assistance with their claims. Many have applied or will soon apply to participate in the Sandy mediation program, officials said.
For more information on mediation, New Jersey consumers can contact their insurance company directly or contact the American Arbitration Association at www.adr.org/njsandy or by calling 855-366-9774.
The Sandy Mediation Program does not currently include flood claims which are administered by the National Flood Insurance Program (NFIP). However, New Jersey continues to invite the NFIP to include disputed claims in the mediation program.
Previously, Gov. Chris Christie and Department of Banking and Insurance Commissioner Ken Kobylowski have hosted more than 30 mobile cabinets or offices in communities including Asbury Park, Brigantine, Sayreville, Oakhurst, Bayville, Brick, Little Ferry, Sea Bright, Union Beach, Neptune, Atlantic Highlands, North Wildwood, Stratford, Highlands, Manasquan, Vineland, Seaside Heights and Mantoloking.
Topics Claims
Was this article valuable?
Here are more articles you may enjoy.