Investigators who have been examining last week's devastating boardwalk fire in New Jersey announced that old electrical wiring underneath the boardwalk, damaged by Superstorm Sandy's floodwaters last year and worn down by sand, was to blame for the blaze.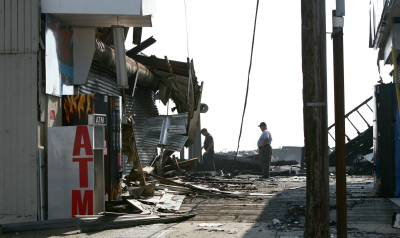 Investigators said the decades-old, frayed wiring came into contact with each other, sparking a fire that destroyed dozens of boardwalk businesses in Seaside Park and Seaside Heights.

Officials also advised that businesses and homeowners whose properties were flooded and were submerged in floodwaters during last year's Sandy should have their electrical systems inspected to ensure that they are safe.

A team of 27 investigators and four accelerant detection K9 dogs from federal, state, county, and local departments arrived at their findings after examining the fire scene debris, said New Jersey's Ocean County Prosecutor Joseph Coronato. The investigators ruled the fire was accidental, and they also ruled out all other possible causes such as arson or careless smoking.
"Scene examination preserved and isolated the electrical system servicing the originating structures and the team is in complete consensus that a failure of energized electrical equipment and wiring located under the board walk and sub floor of the originating structures compromised by Sandy flood waters contributed to the fire," the N.J. Ocean County Prosecutor's Office announced in a statement Tuesday.
"The scene examination revealed fire damage consistent with the fire originating under the structure that housed both Biscayne Candies and the Kohr's Ice Cream stand," the Ocean County Prosecutor's Office said.
"The fire investigation team, with the help of electrical engineers, fire analysts, and four accelerant detection dogs eliminated the cause of the fire as suspicious, ruled out any human deliberate or accidental involvement, and eliminated all other heat sources. The fact that the area under the structure is completely inaccessible assisted in the investigative team findings."
The Ocean County Prosecutor's Office said the Fire Investigation Task Force arrived at its conclusions after reviewing pre- and post-scene photos/videos, interviewing business owners and fire scene witnesses, examining possible financial motives, analyzing fire scene debris and mechanicals, and thru critical arc mapping of the point of origin.
Ocean County Prosecutor Joseph Coronato advised Sandy-affected homeowners and businesses to inspect their electrical systems and wiring to ensure that they are safe. "We strongly recommend to all Sandy effected business and home owners that they take measures to have any flood submerged electrical systems inspected and replaced if necessary," Coronato said.
Was this article valuable?
Here are more articles you may enjoy.