Federal Emergency Management Agency (FEMA) said 17 New Jersey municipalities are being recognized in two awards ceremonies this week for reducing their flood hazard risk through FEMA's Community Rating System (CRS).
Residents in participating municipalities are eligible for incremental premium discounts for their federal flood insurance policies.
CRS is a program administered by FEMA that provides lower insurance premiums under the National Flood Insurance Program. Communities can apply to participate in the system, and residents of participating communities pay lower premium reduction rates based on the implementation of floodplain management policies.
Monday's ceremony at the Long Beach Township Courtroom in Brant Beach, N.J., recognized Bay Head, Beach Haven, Berkeley Township, Hazlet, Lavallette, Long Beach Township, Mantoloking, Middletown Township and Stafford Township.
Wednesday's ceremony at the Sea Isle City Elementary School in Sea Isle City, N.J., will recognize Avalon, Cape May, Cape May Point, Longport, Margate, Ocean City, Sea Isle City and Upper Township.
Communities earn points toward their rating based on 18 creditable activities in four categories: public information, mapping and regulations, flood damage reduction and flood preparedness. For towns participating in CRS, flood insurance premium rates are discounted in 5 percent increments.
Premium reductions are in the form of "CRS Classes," which are similar to the classifications used for fire insurance. A "Class 1" community (the highest level of compliance) would receive a 45 percent premium reduction.
Ten New Jersey municipalities (Sea Isle City, Avalon, Beach Haven, Bedminster, Brigantine, Long Beach Township, Longport, Mantoloking, Pompton Lakes and Stafford Township) are in "Class 5," the highest level currently in the state. The 61 communities in the program have saved a total of $17 million.
FEMA said participating communities have better organized and more formal local flood programs, which can be evaluated against a nationally recognized benchmark. FEMA said the discounted premiums give communities incentive to maintain its programs, and residents are reminded that their towns are working to protect them from flooding and will become more knowledgeable and interested in supporting and improving flood protection measures.
Source: Federal Emergency Management Agency
The table chart below shows the credit points earned, classification awarded, and premium reductions given for communities in the National Flood Insurance Program's CRS. (Chart courtesy of Federal Emergency Management Agency)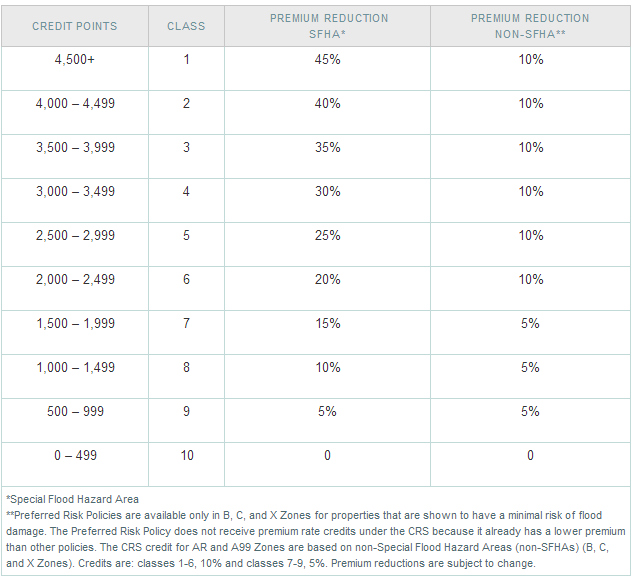 Was this article valuable?
Here are more articles you may enjoy.