St. John's University's School of Risk Management (SRM) held its 19th annual "Insurance Leader of the Year" awards dinner Wednesday before a crowd of more than 1,400 in New York City.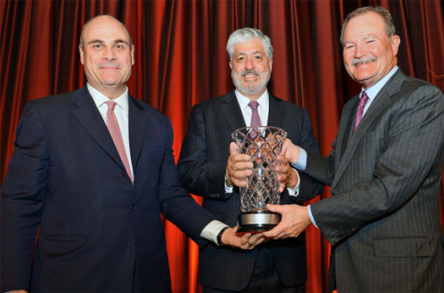 Robert H. Benmosche, president and CEO of American International Group, was named the 2013 Insurance Leader of the Year at the event. Proceeds from the dinner, which raised more than $2 million for the fourth consecutive year, support the university's SRM program through scholarships for St. John's students.

"The miracle at AIG and what's happened is the result of all of the people of this company pulling together to succeed. I couldn't have done this alone. I share in this honor with the 63,000 employees who represent AIG today," said Benmosche during his acceptance speech.

Benmosche was appointed as AIG's president and CEO by the U.S. Department of Treasury and AIG Board of Directors in 2009.
St. John's University said the award, which has been presented annually since 1995, recognizes the contributions of outstanding individuals whose leadership in the worldwide insurance and financial services industry sets them apart from their peers. Last year's recipient was Nikolaus von Bomhard, chairman of the Board of Management, Munich Re Group.
Peter Hancock, CEO, AIG Property Casualty, served as honorary chairman of the dinner.
"Bob has such a magnetic personality and his vision has led AIG back to its proud heritage as a leader in the insurance industry," said Hancock, who presented Benmosche his award. "He makes it fun to work each and every day even though it can be challenging."
The award selection committee was chaired by Ellen Thrower, professor emerita and retired executive director, St. John's University's SRM, and includes George Bernstein of The Bernstein Law Firm; Robert Hartwig, president of the Insurance Information Institute; Joseph Mauriello, retired deputy chairman and COO of KPMG LLP; Michael Morrissey, president and CEO of the International Insurance Society; Patrick Shouvlin, retired partner of PricewaterhouseCoopers LLP; and Peter Walker, director of McKinsey & Co.
Source: St. John's University's School of Risk Management
Topics New York Education Leadership Universities AIG
Was this article valuable?
Here are more articles you may enjoy.