The Hartford has announced that Liam E. McGee, the former chief executive credited for guiding the financial services firm during the recession, has died.
The Hartford, Connecticut, insurance and financial services company announced that McGee died on Feb. 13 of cancer. He was 60.
Thomas A. Renyi, presiding director of The Hartford, said McGee made the "tough decisions necessary to guide the company" at the end of the recession in 2009.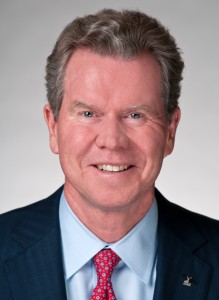 The Hartford received $3.4 billion as part of the federal financial bailout in the immediate aftermath of the crisis in 2008. It repaid the money in March 2010, nine months after receiving it.
McGee was CEO from October 2009 through July 2014. He stepped down as chief executive in June 2014.
He was a native of County Donegal, Ireland, and grew up in southern California.
Copyright 2021 Associated Press. All rights reserved. This material may not be published, broadcast, rewritten or redistributed.
Was this article valuable?
Here are more articles you may enjoy.