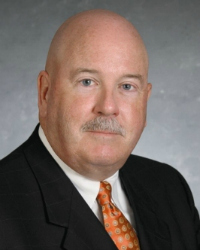 Erie Indemnity Company announced that Terrence W. Cavanaugh, president and chief executive officer of Erie Insurance Group, will retire at the close of 2016. Cavanaugh shared the decision Thursday during a meeting of the Board of Directors, the announcement said.

"The generous timeframe around Terry's decision allows the Board to provide a thoughtful and effective transition of leadership," Board Chairman Thomas B. Hagen said in a statement. "Equally important, it allows us to maintain our dedicated focus on protecting and serving our customers, and supporting our agents and employees for the long-term."
The process to appoint a new CEO launches immediately, and the Board aims to have Cavanaugh's successor in place by the end of the 2016 first quarter, Erie Insurance spokesperson Leah Knapp said. To effect as smooth a transition as possible, the successor will report directly to Cavanaugh through the remainder of 2016, taking on the CEO role at the onset of 2017, she said.
Cavanaugh, 62, joined Erie Insurance in 2008 after a 33-year career with the Chubb Group of Insurance Companies. Under his leadership, Erie Insurance has grown property/casualty direct written premium by more than 45 percent and increased policyholder surplus by 60 percent, the company said.
Cavanaugh currently serves as the chair of the Board of Governors of Property Casualty Insurers Association of America (PCI). He is also on the Pennsylvania Workforce Investment Board and boards of the American Institute for CPCU and Insurance Institute of America.
According to A.M. Best Company, Erie Insurance Group, based in Erie, Pennsylvania, is the 11th largest homeowners insurer and 12th largest auto insurer in the U.S. based on direct premiums written, and the 16th largest property/casualty insurer in the U.S. based on total lines net premium written. The Group has more than 5 million policies in force and operates in 12 states and the District of Columbia.
Erie Indemnity Company provides management services to the member companies of the Erie Insurance Group, which includes Erie Insurance Exchange, Flagship City Insurance Company, Erie Insurance Company, Erie Insurance Property and Casualty Company, Erie Insurance Company of New York and Erie Family Life Insurance Company.
Was this article valuable?
Here are more articles you may enjoy.