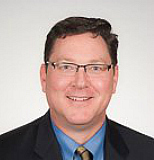 Maryland Insurance Commissioner Al Redmer, Jr. announced Tuesday the appointment of Robert D. Morrow, Jr. as the state's associate insurance commissioner for Hearings.

As associate commissioner, Morrow will serve as the commissioner's designee for most quasi-judicial hearings, where aggrieved parties have the opportunity to have their cases heard. Hearings include appeals of consumer complaints and good faith cases.
"I'm thrilled to welcome Bob to our team," said Redmer. "Bob's entire career has been dedicated to the insurance industry and as such is a perfect fit to adjudicate these cases for the state."
Prior to joining the Maryland Insurance Administration, Morrow served most recently as managing counsel at the Transamerica Life Insurance Co. In that capacity, he acted as legal counsel to both Transamerica Life & Protection Division and Affinity Markets Group where he was responsible for negotiating contracts, researching and analyzing legal matters with insurance carriers and other third parties. Morrow joins the Maryland Insurance Administration after a 13-year stint at Transamerica.
Previously, Morrow was also a staff attorney with Spectera (now Optum Health) and a law clerk at the Pennsylvania Insurance Department.
Topics Maryland
Was this article valuable?
Here are more articles you may enjoy.