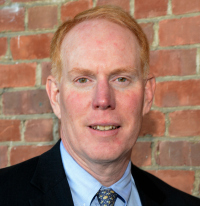 The Independent Insurance Agents & Brokers of New York (IIABNY) has elected John H. (Jack) Smith, Jr. as its chair of the board for the 2016-17 term.

Smith was sworn in during a ceremony following IIABNY's annual business meeting, held at The Thayer Hotel at West Point, New York, Thursday. Members also elected and installed new officers and regional members of the board of directors.

Smith is executive vice president of William A. Smith & Son Insurance, an 88-year-old family-owned and operated agency headquartered in Newburgh, New York. He also manages the agency's subsidiary Ralph V. Ellis Insurance in Poughkeepsie, New York.
A member of the IIABNY board of directors since 2009, Smith has chaired the group's health care reform task force and its audit, finance and CEO search committees.
He also served on the association's insurance review and telematics task forces; the cost-shifting working group; and the health care advisory group. As the IIABNY board's chair-elect and secretary-treasurer, he also served as chair of the board of IAAC, IIABNY's member services division. He is past president of the Independent Insurance Agents Association of Orange County and is a current co-chair of New York First, a coalition of insurance companies and trade associations that support the independent agency system in the State of New York.
In his remarks, Smith outlined the issues that will be his focus during his one-year term, including:
Legislation to ensure that New York employers will receive advance notice when their workers' compensation premiums increase substantially
A bill to ease financial burdens on New York employers with regard to safe workplace programs
Improvements to the state's processes for insurance producer licensing and continuing education
Continued collaboration with the New York State Insurance Fund to make doing business with the Fund easier for insurance brokers
Promoting the value of the independent insurance agency/brokerage system
Programs to encourage high school and college students to pursue insurance careers
The transition following the forthcoming retirement of President and CEO Richard Poppa
IIABNY announced Richard MacDonald, vice president, director of sales for Haylor, Freyer & Coon in Syracuse, New York, was elected to a one-year term as vice chair and secretary-treasurer.
IIABNY members also elected and re-elected the following regional directors:
Jessica Belleville, president of Belleville Associates in Tupper Lake, New York, to a two-year term representing the state's Capitol District and areas north
Ronald Brunell, managing principal of The Signature B&B Companies in Valley Stream, New York, to a one-year term representing the New York City metro-suburban areas
David MacLachlan, partner at Dominick Falcone Agency Inc. and Falcone Associates Inc. in Syracuse, to a two-year term representing the central and western areas of the state
Karen Peters, senior vice president of Rose & Kiernan Inc. in Albany, New York, to represent the state's Capitol District and areas north
Christopher Brassard, executive vice president and director of Ten Eyck Group in Albany, New York, won a two-year term as a member representative on the Nominating Committee, which evaluates candidates for leadership positions and makes recommendations to the membership. Brassard is a past chair of the IIABNY board.
IIABNY board of directors also re-elected Jeanne Salvatore of the Insurance Information Institute in New York City to a two-year term as a director-at-large.
Was this article valuable?
Here are more articles you may enjoy.