A suspect has been taken into custody in connection with a bomb that went off from inside a dumpster in New York's Chelsea neighborhood, injuring 29 people.
Mayor Chris Bollwage of Elizabeth, New Jersey, said Ahmad Khan Rahami was taken into custody after firing at police officers in Linden, New Jersey. Rahami and two officers were hit in the shootout. The Associated Press reported that Rahami is a citizen of Afghanistan.
Investigators believe more people were involved in the New York and New Jersey bombing plots, two U.S. officials told Reuters.
At a press conference held Saturday, New York Mayor Bill de Blasio said investigators believe the bombing was an intentional act, however the motivation for the attack is still unknown.
"One of the things we're going to say to you today is we're going to be very careful and patient to get to the full truth here," de Blasio stated at the conference. "We are not going to jump to conclusions. We are not going to offer you easy answers. We are going to make sure we have all the facts."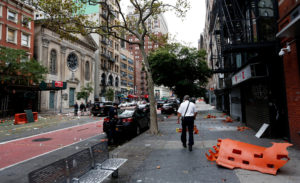 During the same press conference, New York Police Commissioner James O'Neill stated that in the past two years, law enforcement agencies have foiled 20 plots in New York City.
"[This] violent, criminal act is going to be solved by those same people," he stated. "So, New York City residents can rest assured that we'll get to the bottom of this."
Catastrophe modeling expert Dr. Gordon Woo, of Risk Management Solutions, said in an emailed statement that the fact this event was not interdicted by city and federal intelligence and law enforcement services, however, could be a concern for New Yorkers and visitors, and that the events could be part of a shift in the frequency and size of terrorism events that could affect the insurance market.
"The weekend's incidents also have implications for the modeling of terrorism risk. From what is known about the improvised explosive devices (IEDs), the cumulative death toll from these bombs might well have exceeded 50, which is the threshold for classification as a 'macroterror' attack in RMS models," Woo stated. "A key statistic for terrorism insurers is the relative frequency of small IED plots compared to large vehicle bomb plots. The weekend's event provides additional evidence to quantify this relative frequency and, in particular, it reflects a shift towards smaller sized IEDs."
Was this article valuable?
Here are more articles you may enjoy.