The current owners of several insurance agencies, Patrick Maguire and Paul Tracy, acquired ownership of BroGue Insurance & Financial Services in Bangor, Maine, on November 1, 2016.
Established in Bangor in 1983, BroGue Insurance & Financial Services is an independent insurance agency offering personal, business, life and health insurance from a variety of insurance carriers.
Under the new ownership, BroGue will retain its business name and will now be able to offer customers more insurance options through a larger network of carriers.
BroGue has been affiliated with the other agencies owned by Tracy and Maguire since 2004, when it became part of the Grindstone Financial Group LLC, a group association of independent insurance agencies with more than 20 locations in Maine. Other agencies owned by Tracy and Maguire are Brown, Holmes & Milliken, The Winter Harbor Agency, Lynam Insurance Agency, and Schoodic Insurance Services.
BroGue will continue to be managed by co-founder Daniel Guerette. Guerette has been active in numerous state and national insurance associations since entering the business in 1975. He currently serves as national director to Independent Insurance Agents & Brokers of America. Other staff members, including Dan's wife Phyllis Guerette, will remain with the company at its current location.
Source: BroGue Insurance & Financial Services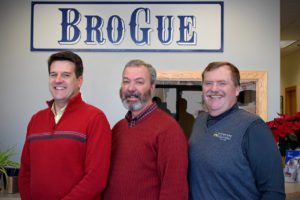 Was this article valuable?
Here are more articles you may enjoy.