Vermont Captive Insurance Association (VCIA) President Richard Smith joined Vermont Governor Phil Scott as he signed new legislation passed in the 2017 session.
This new legislation serves to strengthen Vermont's captive legislation in a variety of areas, including adding agency captives to the portfolio of captive types allowed in Vermont.
The law takes effect upon passage.
"In what has become an annual tradition, these improvements to our captive legislation illustrate Vermont's ongoing commitment to the captive insurance industry, which has been an economic boon for the state," said Gov. Scott in a statement published in a VCIA press release. "This bill will further advance Vermont's reputation as the 'Gold Standard' for domiciles and will provide greater flexibility and clarity going forward for our companies."
The new captive insurance legislation added agency captives to the types of captives that can be formed in Vermont. An agency captive is a reinsurance company controlled by an insurance agency or brokerage. Through a reinsurance agreement with a traditional insurer, the agency captive receives a share of the premiums written and is obligated to pay its share of claims. Agency captives create a long-term relationship between the agency and the insured, where interests are aligned in terms of risk appetite, selection, pricing, loss control and claims management.
"As we have for many years, we worked with the VCIA to develop a bill that helps the industry grow while maintaining prudent regulatory standards," said David Provost, deputy commissioner of Vermont's Captive Division, in the release. "The legislative process is part of making sure that our captive law meets the needs of business within a regulatory framework that recognizes the special purposes for which captives are formed."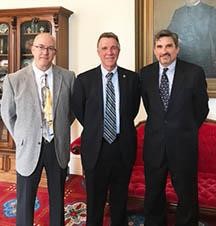 Besides the agency captive provision, changes to Vermont's captive law allows broader accounting systems, expands dormant captives and clarifies risk retention governance standards among other things.
"Governor Scott has supported the captive industry in Vermont since his days as a State Senator and Lt. Governor," Smith said in the release. "We're delighted to have his continued support and that of the Legislature in keeping pace with the changing needs of the industry. I have already been contacted by a number of entities interested in Vermont's new agency captive provision."
VCIA, the largest trade association for captive insurance in the world, lobbied for the legislation. Established in 1985, the Association has grown to provide lobbying support on both the state and federal levels for its more than 400 member companies. In addition, it hosts and supports professional education opportunities for the industry at large.
Source: VCIA
Was this article valuable?
Here are more articles you may enjoy.