New Jersey Governor Phil Murphy has signed Executive Order No. 83, directing the New Jersey Department of Treasury, the Division of Purchase and Property, and the New Jersey Department of Banking and Insurance to promote responsible gun safety practices for gun vendors and financial institutions providing services to the state and take action against insurance policies that encourage firearm use.
This executive order complements comprehensive gun safety legislation signed by Murphy, making New Jersey a leader in instituting the strongest gun safety measures in the nation, according to a press release issued by Murphy's office.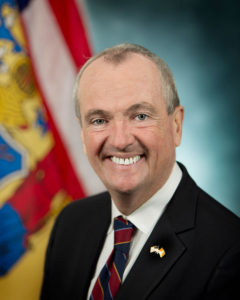 "New Jersey has committed to a whole-of-government approach to tackle gun violence," said Murphy in the release. "I have signed comprehensive, commonsense gun safety and gun-violence intervention legislation, and now, under this executive order, my Administration is committed to making our communities safer by aiming to do business with gun dealers that have adopted best practices to reduce gun violence. We want those who do business with New Jersey to share our values and be committed to ending the scourge of gun violence in our communities."
In March 2019, Murphy joined the 'Do Not Stand Idly By' campaign's demand letter seeking information from gun manufacturers on their practices to protect public safety. The goal of the campaign is to significantly reduce firearms-related deaths, injuries and crimes in the U.S. and to modernize and stabilize the gun industry. This campaign requires signatories to issue a Request for Information (RFI) during the firearm procurement process to the state's gun vendors. The RFI asks those vendors to outline the policies that they use to enhance and promote firearm safety. This recent executive order signed by Murphy builds on this pledge.
"Gun violence continues to claim innocent lives at an alarming rate," said Marlene Caride, New Jersey Department of Banking and Insurance commissioner, in the release. "We cannot allow this to be the new normal. The department recently took enforcement action against a company for illegally operating an NRA-sponsored insurance program that encourages firearms use. We are continuing to investigate other firearm-related insurance programs for potential violations of state insurance laws."
Last week, the New Jersey Department of Banking and Insurance announced that Lockton Affinity LLC agreed to pay a $1 million fine as part of a consent order with the department for administering a National Rifle Association-sponsored insurance program in violation of state insurance laws.
An investigation by the department found that Kansas-based Lockton Affinity violated various state laws and regulations in administering the Carry Guard insurance program in New Jersey on behalf of the NRA.
The recent order signed by Murphy is intended to use the state's purchasing and regulatory powers to hold gun manufacturers, retailers and the financial institutions that provide services to those entities accountable for promoting gun safety principles. Among the directives, Murphy's executive order states:
The Division of Purchase and Property is to issue a request, within 30 days, to all retail dealers or manufacturers of firearms that currently sell ammunition and/or firearms to the state to ascertain whether vendor practices, where applicable, adhere to the applicable public safety principles related to firearms listed in the order.
Upon receipt of information from such retailers and manufacturers, the Division of Purchase and Property shall determine whether and how to ensure that any prospective bid solicitation for ammunition and firearms include a requirement that each vendor, prior to award, certify adherence to public safety principles relating to firearms as defined in this order.
The Treasurer is instructed to issue a request, within 30 days, to financial institutions providing services to the Department of Treasury, or any of its divisions, offices or agencies, to disclose whether such institutions have adopted any code of conduct or principles related to gun safety or responsible sales of firearms.
The Commissioner of Banking and Insurance, within 30 days, is instructed to take all appropriate action within her authority to prohibit and/or limit the sale, procurement, marketing or distribution of insurance products that may serve to encourage the improper use of firearms.
The order will take effect immediately.
Source: New Jersey Office of the Governor
Topics Legislation New Jersey Manufacturing
Was this article valuable?
Here are more articles you may enjoy.