Crawford & Company has promoted Jack Schafer to senior vice president, chief client officer of U.S. Loss Adjusting. Schafer will report to Rohit Verma, Crawford's global chief operating officer and is based in Connecticut.
In his new role as chief client officer, Schafer will help unify Crawford's business development efforts across its U.S. Loss Adjusting Services,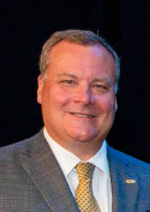 which consists of business development teams from Crawford Claims Solutions (CCS), Global Technical Services (GTS) and Contractor Connection (CCC). He will be responsible for delivering on the company's "One Crawford" approach. His promotion took effect on Nov. 1, 2019.
Schafer is a 23-year veteran of Crawford and has held multiple leadership roles throughout the U.S. including vice president of business development for Contractor Connection. In early 2019, his role was expanded to include GTS business development where he created a highly-specialized sales team.
Based in Atlanta, Crawford & Company provides claims management and outsourcing products to insurance companies and self‐insured entities with an expansive global network serving clients in more than 70 countries.
Was this article valuable?
Here are more articles you may enjoy.