Climate change will drive up wind losses in the U.K. in coming years, according to a recent report from the Association of British Insurers, the Met Office, and Boston, Mass.-based catastrophe modeler AIR Worldwide.
The report shows that temperature increases of just a small number of degrees are likely to lead to insurance losses for high winds that could be 11 percent higher nationwide by midcentury and 25 percent higher by the end of the century.
These temperature changes fall within the long-term projections of what climate change experts expect to happen.
The report, "UK Windstorms and Climate Change," assesses the impacts of global temperature increases on the frequency and intensity of U.K. windstorms, U.K. flooding and China typhoons, and the implications for the U.K. insurance industry.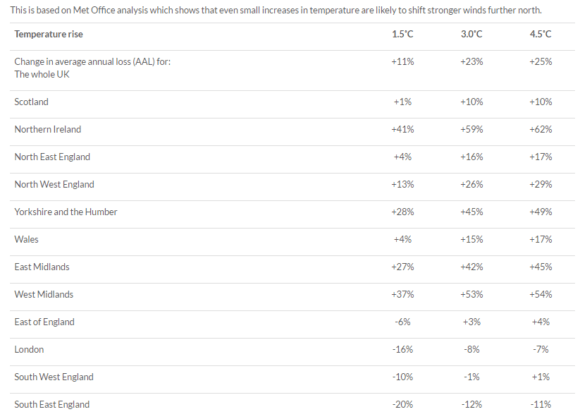 The changes are based on a Met Office analysis, which shows that even small increases in temperature are likely to shift stronger winds further north.
The authors break down the changes in temperature expected in three timelines and estimate insured losses in conjunction with those increases: 1.5 degrees C (2050 to 2059); 3.0 degrees C (2070 to 2079); 4.5 degrees C (2090 to 2099).
According to Peter Sousounis, assistant vice president and director of meteorology for AIR Worldwide, just a few degrees of global warming could potentially yield significant increases in the frequency and intensity of wind storms across the U.K. by the middle of this century and will likely continue into the next century.
The report offers a detailed look at how specific areas could be affected. Increased losses are not spread evenly across the country, but are likely to be concentrated in Northern Ireland, northern England and the Midlands, while Southern England could potentially see decreasing losses from storms, according to the report.
For the U.K. as a whole, a temperature increase of 1.5 degrees C would increase insured losses by 11 percent, while an increase of 3 degrees C would more than double the losses to 23 percent. In London, the losses are predicted to actually go down as the planet gets warmer. A 1.5 degree C rise in temperature would result in 16 percent fewer losses, while a 3 degree rise would yield an 8 percent decrease in losses.
Northern Ireland will see the biggest increase in storms, the report shows. A 1.5-degree C rise in temperature would lead to a 41 percent increase in insured losses, while a 3-degree C rise would lead to a 59 percent increase in insured losses.
"I think what's surprising is the regional texture of the result," Sousounis said.
Most reports that examine the impacts of rising temperatures usually look much further out in time, but this report was undertaken with insurers in mind, and insurers are interested in events expected to occur sooner than later, he said.
"I think an important aspect of the report is a lot of climate change impact studies are focusing far into the future," he said. "That is a distinguishing aspect of the report. It's really not that far way. It's 32 years away. And we do see some significant changes."
Was this article valuable?
Here are more articles you may enjoy.