QBE Insurance has spent the last few years restructuring its business while at the same time weaving the fabric of a global organization with a strong, cohesive culture.
A good corporate culture helps to create good financial results. Consequently, the CEO must spend his or her time painting a picture of what "good" looks like with culture and strategy. Then everybody is pulling in the same direction, affirmed Pat Regan, QBE's group chief executive officer.
"We've done a lot of work on the guts of the organization, but it was really important at the same time to bring to life our culture, so people felt we had heart as well as head," said Regan.
When he moved into the role in January 2018, one of Regan's first priorities was to sit down with his executive team and determine the culture "we wanted for the company and how should we bring it to life."
"Whether you're running any kind of business, whether you play a team sport, the cultural organization of the team is everything, really. Of course, our strategies are also important, but they're not as important as actually getting the fabric of the culture of the organization right," he said in an interview with Carrier Management.
As CEO, Regan aims to shape and perpetuate QBE's culture by being role model No. 1 for the QBE DNA program's cultural attributes, which were rolled out earlier in 2018. "If I'm not role modeling the [cultural attributes], we've got zero chance of creating it," he emphasized.
As Regan and his team developed the QBE DNA program, the team came up with the idea of using "modern, contemporary language" with hashtags, which Regan admitted he originally resisted. "Of course, that was the thing that really caught on," he laughed.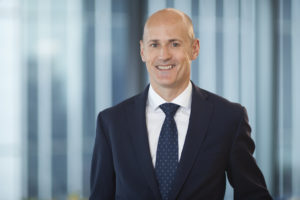 QBE Group CEO Pat Regan
Pat Regan and his team developed seven cultural attributes, using hashtags, to help QBE's global teams embed the corporate culture. The attributes are: 1. We are customer-centered (#OutsideIn); 2. We are technical experts (#KnowYourStuff); 3. We are diverse (#MixItUp); 4. We are fast-paced (#RampItUp); 5. We are courageous (#DoTheRightThing); 6. We are accountable (#OwnItNow); and 7. We are a team (#Together).
Indeed, Regan said the program has been embraced by QBE employees who are bringing it to life on a daily basis by regularly adding one or more of the cultural attributes to internal communications or to their internal emails. "Actually, I didn't have to do too much pushing or spend much time encouraging the team because people really like it. I role model it, my team role models it, and it has caught on throughout the group."
Regan aims to create a corporate environment where his colleagues feel comfortable (courageous) enough to tell him when he's not role modeling the QBE DNA and he's comfortable (courageous) enough to hear it. During the summer, he filmed a video asking people to call him out when he's not role modeling the cultures.
"It's easy for me to tell people when they're not living the culture, isn't it? But I also need to be aware when I'm not role modeling them. And in the moments when I'm not, people need to tell me. If I can do that, then my team can do that, and their teams can do that. Then we'll be able to create something special," he emphasized.
"If we get that, we can create a kind of esprit d'corps throughout QBE. That would be awesome. That would be 10-times more important than anything I could go on about."
As a result of all his work on building the corporate culture, Regan admitted he spends more time on culture than on the company's business strategy, which has been developed and is ticking along nicely.
Reunderwriting, Restructuring
QBE embarked on a program to restructure its business after it reported a loss for 2013 of $254 million and subsequently experienced poor results in some of its regions and product lines that were pulling down the group's overall profitability. In 2017, the company reported a full-year after-tax loss of $1.25 billion on "unprecedented" natural catastrophe claims.
"We've had too many surprises in our results. We've had good bits in our results—really good bits—but they've been overshadowed by unexpected surprises. We had nothing unexpected in this year's half-year results, so that's where we've got to repeat, consistently," he noted.
"We've got to keep on setting realistic expectations and then meeting those expectations in a repeatable, high-quality way."
Regan said he wants the company to achieve "a repeatable, double-digit return on equity for our shareholders. That's important."
"We need to focus on the bits where we're truly excellent and make that more repeatable and more consistent, whether that be in how we show up for our customers, how we deploy our capital, how we take on risk or how we make money," Regan affirmed.
As a result of its reunderwriting and restructuring program, QBE concluded there are some parts of the world where the business environment is too difficult or the company doesn't have enough of a market presence to be able to make a profit. "Some of the businesses were a bit too small, and in order to grow, you end up trying to write some of the more difficult, often unprofitable business," he continued.
"So we've exited those and we've done that quite quickly. When you do that kind of thing, it's important to start and finish it quite quickly," Regan said.
Since January, when Regan became CEO, QBE has sold its Latin American operations to Zurich Insurance for $409 million, sold its underperforming business in Thailand and began exiting from North American personal lines. The company also announced in August that it sold its personal insurance independent agency policies in 47 states to Safeco Insurance, a division of Liberty Mutual. During the first half of the year, QBE also executed a loss portfolio transfer to exit its Hong Kong construction workers compensation business.
"For all our other business, we think we're either really good at it now or we've got a realistic plan to become really good at it," he emphasized.
Brilliant Basics
One of the company's core strategies is its "Brilliant Basics" program, which was first piloted in 2016 and was rolled out across the company in 2018. The program aims to give the teams all the tools they need to improve underwriting quality, pricing and claims handling for every market where the company operates and for every product it underwrites.
To address the deterioration in its underwriting performance, QBE also implemented a comprehensive remediation plan covering specific actions for each of its business "cells" or portfolios. These cell reviews began in the second half of 2016, continued throughout 2017 and into 2018. Regan described the cell review process as a performance management routine that is now fully established across the group, with more than 300 cell reviews completed across the four divisions involving over 100 cells globally.
"Cell reviews are where we do the reunderwriting. That's where we discuss the individual steps to reunderwrite to get to the target performance, hopefully using the techniques drawn from Brilliant Basics," he said.
"We do it in person for every portfolio. The teams' job is to explain their strategy, current performance and the actions they will take to drive future performance, which isn't particularly revolutionary," he said. (Cell reviews are led by the cell owner and cover all aspects of the business, including underwriting, pricing and claims. During the reviews, Regan is joined by members of his senior executive team).
Regan explained that the process helps focus underwriters' attention on meeting their targets because when they come back for the next cell review and their targets haven't met expectations, "then we'll be talking about why or what actions we need to take."
"The beauty of the cell review is the divisions do it in a lot more detail because they want to make sure that they're all over this stuff before I show up," he said with a chuckle.
It's during this initial process, conducted locally by the divisions, when in-depth questions are asked and little corrective actions are taken on a regular basis, Regan continued. "They're reunderwriting where we need to and growing where we can do."
By the time Regan participates in the cell review, he said, the underwriters have been through the process probably twice previously and "the questions from me are actually pretty straightforward, because they've already thought of all the good questions and answers."
It was such a reunderwriting review, which has led the company to exit its unprofitable business writing workers comp for large construction projects in Hong Kong, said Regan.
The pricing was "wafer thin" for large construction projects, such as a new runway or an underground, which also required a high level of sophisticated risk assessment, Regan explained. "The fundamental pricing of that sector had gotten to the point where it was just impossible to participate in the business."
By developing strong business and cultural foundations, the company will then be able to move from being a bit too internally focused and have more time for product development, to be able to rise to the challenges of innovation and disruption, and to be more customer-centered, he continued.
From CFO to CEO
Regan joined QBE in 2014 as group CFO and was appointed to the role of CEO, Australian and New Zealand Operations, in August 2016. Prior to joining QBE, he was the CFO at Aviva in London (2010-2014), group chief operating officer and CFO at Willis Group Holdings (2006-2010), group financial controller at Royal & Sun Alliance (2004-2006), and AXA SA's Finance and Claims director for the U.K. General Insurance business (2001-2004). He held various roles at General Electric Co. between 1998 and 2001, including controller, global consumer finance (Stamford, Conn.) and U.K. controller, GE Capital Bank.
When asked what he thinks are the most important qualities for any CEO to possess, Regan said his view on that has probably changed over time. "It's interesting as you kind of grow up in your career, things you're naturally good at become less and less important. You're no longer an individual contributor to a team; you've become the team leader, so a different set of skills are required."
"Whether you've got the world's most perfect strategic plan often doesn't matter so much. It needs to be somewhat fit for purpose, but more important is to create a real sense of team, a clear direction for the team and then get everybody to pull in the same direction," he said. "If you can do that, you can move mountains. Then you follow that up with really good communication around what you're doing well, what you're not doing well, while keeping people alongside you and motivated around that. It's hugely important."
Indeed, he said, hiring, attracting, motivating and retaining the right talent onto the team is also massively important, especially in organizations with global offices.
This realization first dropped on him when he was named a team leader at GE Capital early in his career. "Suddenly I had a team, and actually being an individual contributor wasn't important. Managing the team was important, as was coaching them and giving them good development feedback, which I'd never done before."
He was working for GE in Stamford, Conn., and he realized that 90 percent of his team was all around the world—anywhere from Dublin to Budapest to Tokyo to Sydney. And with an aggressive program of M&A, the team kept expanding.
Painting a Picture of What 'Good' Looks Like
"I realized I had to paint a picture for the team of what 'good' looks like and spent a lot of time getting the right person to lead the finance teams in those places around the world," Regan recalled.
In his current role as CEO, Regan finds it's much less detail-orientated than his CFO roles. "You have to almost kind of visibly pull yourself back from the detail. My job is to create a canvas, to paint a very broad picture of what we're trying to achieve," he said.
"And then I put people around me who are much better at their individual jobs than I would be, and I empower them to do their jobs," Regan affirmed. "We spend a lot of time developing the right framework to make sure we're doing what we're supposed to be doing. Then we get really good people to do it. I make sure it's all running to plan."
One-on-One Conversations
When he took on the role of CEO at QBE, he talked to a few other experienced CEOs who have been really successful, to get their advice. One CEO advised Regan to spend his time not only on the traditional activities of developing strategy, capital allocations and anticipating future trends but also on quality one-on-one time with the people who really matter to you, such as the board members and your team. "The payback for that is disproportionate," the CEO told Regan.
"Sometimes it's awkward to do that because they're in different places. Sometimes it feels like, if I talk to them, it's not going to help me get anything done today," said Regan. "But it was such good advice. Actually, so much flows from that. First, I get to understand what you're trying to do, and almost always, I learn something I haven't thought of."
Regan said these conversations are held with people throughout the company, not just with the leadership team. He recalled spending a couple of hours during a recent afternoon with a woman who is working on the Brilliant Basics agenda. "It was great listening to her because she knew 100-times more about it than I did. It was just awesome to hear."
Regan said he has a really skillful development coach—skillful in the sense that he doesn't always agree with what Regan says. The coach asked Regan, "Why do you do what you do? Why do you come in? What motivates you to do it?" Regan noted: "Just thinking about that question is such a good exercise."
So, what answer did Regan come up with? "I think the core thing for me is to try and make the company as good as it can be, in all the facets, so we're successful, so we make money, so our shareholders feel good, but also so it feels like a good place to work. Probably those things."
QBE obviously needs to look after its customers, but it's also important to "make people feel like it's fun to work here, make them feel like they're part of a winning team—that we're doing something good."
This article first appeared in Insurance Journal's sister publication, Carrier Management.
Related:
Was this article valuable?
Here are more articles you may enjoy.