Chubb announced the appointment of Jason Keen as division president, Chubb Global Markets.
In this role, Keen will have responsibility for the leadership, strategy and performance of Chubb Global Markets, which comprises Chubb's London market wholesale and specialty business including the company's Lloyd's platform.
Keen will assume his role early in the new year and he will report to David Furby, regional president, Chubb European Group. His appointment is subject to regulatory approval. Keen succeeds Matthew Shaw, who is leaving the company.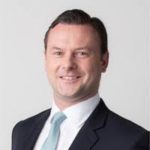 Keen joined ACE (now Chubb) in 2010 as regional property underwriter, Asia Pacific, and assumed overall responsibility for the company's property and casualty portfolio in Asia Pacific in 2016. Previously, he worked for Lloyd's syndicates managed by Talbot Underwriting Ltd. and Ascot Underwriting Ltd.
"Jason's strong underwriting acumen is a distinguishing feature of his success to date and aligns perfectly with our Chubb Global Markets tradition of underwriting discipline and consistent results," said Juan Luis Ortega, Executive Vice President, Chubb Group and President, Overseas General Insurance.
Source: Chubb
Was this article valuable?
Here are more articles you may enjoy.