Insurance sales in Hong Kong to mainland Chinese customers declined in the third quarter as escalating protests halted visits to the financial hub.
Their purchases of insurance and related investment policies declined 18% to HK$9.7 billion ($1.2 billion) from a year earlier, according to figures released Friday by Hong Kong's Insurance Authority. From the second quarter, they fell about 29%.
That year-on-year drop was the biggest since the start of last year, weighing on insurance giants such as Prudential Plc and AIA Group Ltd. Hong Kong is a hot market to buy insurance for mainland customers since it offers a wider array of investment products and access to foreign currencies.
Since rules stipulate that customers need to finalize contracts in person, sales have been pummeled as many prospective Chinese customers have avoided the former British colony.
AIA, which counts Hong Kong as its biggest market, said last month the value of new business in the city, a measure of future profitability of new policies, fell by double-digits in the third quarter.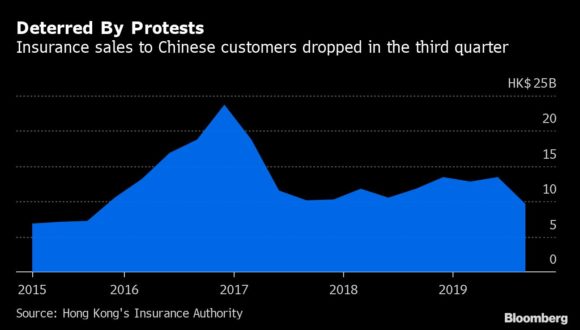 Insurance agents had expected a strong 2019 amid decline in the Chinese yuan, which typically increases demand for foreign-currency policies. In the first half the year, largely before the protests kicked off, new premiums on policies sold to mainland visitors increased 18%.
Photograph: Demonstrators walk during a protest in the Tsuen Wan district of Hong Kong, China, on Sunday, Aug. 25, 2019. Photographer: Paul Yeung/Bloomberg.
Related:
Copyright 2019 Bloomberg.
Was this article valuable?
Here are more articles you may enjoy.