In a world facing a climate crisis, investors need to start taking account of carbon emissions and rising temperatures in their decisions, according to Bank of England Governor Mark Carney.
The shift in thinking will be key to the industry's success in helping the U.K. economy reduce emissions of greenhouse gases to the point where it makes no net contribution to rising global temperatures, the U.K. central bank said. The comments came Thursday as the U.K. announced its agenda for the United Nations climate summit later this year in Glasgow.
"2020 must be a year of climate action where everybody's in, and that includes the world's leading financial center," Carney said in a statement. "Disclosures of climate risk must become comprehensive, climate risk management must be transformed, and investing for a net-zero world must go mainstream."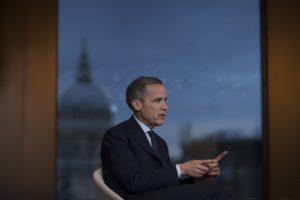 COP26, the November summit in Scotland, is billed as a possible milestone event in the global fight against climate change. The signatories of the 2015 Paris climate accord will reach a five-year deadline to review their promises and they could set more ambitious goals.
Mobilizing financial markets to support the transition was a key goal of the Paris accord and has been the catalyst for many of the world's largest asset owners and money managers to pledge they'll put their vast resources behind the push.
The BOE is planning the world's most thorough climate stress tests of banks and insurers in 2021, which could provide a model for other central banks.
Carney has already taken up a role as UN special envoy, where he'll focus on mobilizing private finance to help achieve the Paris climate goals. He's also advising U.K. Prime Minister Boris Johnson on environmental issues in the for the COP26 conference.
Related:
Copyright 2021 Bloomberg.
Topics Climate Change Uk
Was this article valuable?
Here are more articles you may enjoy.