Leading marine insurance provider Skuld announced changes to the Skuld London management team.
Gregory Thomas, chief business development officer at Skuld, will on July 1 relocate from London to Norway and continue to drive the developments of Skuld's global commercial business from the Oslo headquarters.
Matthew Burton, senior vice president, head of London P&I, has been appointed as senior vice president, head of business, Skuld London, effective on July 1.
Burton joined Skuld in October 2012, according to his LinkedIn profile. Prior to that, he was underwriter for the North of England P&I Association (July 2011 to October 2012). He was an underwriter for the Shipowners' Club from January 2007 to June 2001, his profile said.
He graduated with a Bachelor of Science Honours degree in Maritime Business and Law from Plymouth University in the UK.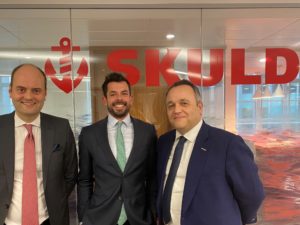 "Greg has played a vital role in the successful growth in business in the Skuld London office. I would therefore like to thank him for all his efforts and excellent work. I look forward to welcoming him back to our headquarters in Oslo," said Ståle Hansen, Skuld's president and CEO.
"Skuld London will continue to play an important role for our global operations…," he added. "With Matt's solid experience in the London and international markets and his dedication to the business, I am confident that our London office will continue providing our members and clients the high-quality service and competence they rely on."
Source: Skuld
Was this article valuable?
Here are more articles you may enjoy.