Lloyd's announced the appointment of Marc Lipman as president, Lloyd's Canada, and attorney-in-fact (AIF) for Lloyd's Underwriters.
Lipman assumes the role of AIF from Lisa Duval, who took the position last year on an interim basis and now returns to Lloyd's International Regulatory Affairs in London.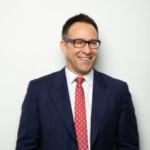 Lipman brings to Lloyd's a wealth of industry experience and a deep understanding of the Canadian re/insurance sector, said Lloyd's in a statement. He joins Lloyd's from AIG Insurance Co. of Canada, where he held a series of senior leadership roles.
Most recently Lipman was chief operating officer and acted as AIG Canada's innovation officer, with responsibility for leading the company's transformation efforts. He also previously served as vice president, general counsel and secretary and as AIG's chief legal and regulatory officer, working across AIG's property, casualty, reinsurance, life, and mortgage insurance entities.
In his new role, Lipman will report to Hank Watkins, regional director and president of Lloyd's, Americas. In addition to representing Lloyd's before provincial and regulatory bodies, Lipman will work closely with Lloyd's distribution partners in Canada and London to facilitate the development of innovative risk transfer solutions by Lloyd's underwriters in our third largest market globally.
"As we continue working to grow our presence across the Americas region, Marc's extensive experience in Canada will be invaluable," said Watkins.
"Our immediate focus continues to be providing our many stakeholders with the support they expect from Lloyd's through these challenging times," he added. "Going forward, in partnership with our colleagues around the world, Marc will also be focused on advancing the Future at Lloyd's strategy and helping to serve the businesses and entrepreneurs that drive the Canadian economy."
Source: Lloyd's
Topics Legislation Excess Surplus Lloyd's Canada AIG
Was this article valuable?
Here are more articles you may enjoy.