Brokers have been slow to adopt social media and digital technologies as a whole, which is hampering their ability to keep the clients satisfied during the lockdown, said GlobalData in a report.
The entire industry will face a changing landscape due to new businesses practices and a worldwide recession, following the crisis. However, the UK broker channel is particularly reliant on meeting clients and it generally does not have the expertise or existing infrastructure in digital channels to make up for that, said GlobalData, the London-based platform that provides data analytics and analysis about insurance and other industries.
"Brokers have suffered during the COVID-19 outbreak given that their businesses rely on face-to-face meetings and client engagement. Brokers will be inundated with queries from their clients about potential insured losses. Digital technologies would be extremely helpful to ease these concerns; however, most brokers in the UK do not have this capability," commented Bartosz Golba, head of Financial Services at GlobalData.
GlobalData's 2016-20 UK Broker Surveys show that, during this five-year period, brokers made little progress in adopting social media engagement, claims tracking processes or online chat facilities.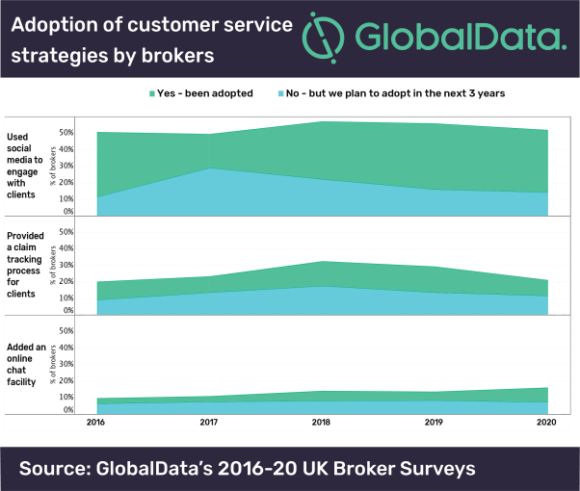 Brokers continue to say they will adopt these technologies but they have fail to grow these key technologies, said GlobalData, noting that they appear to understand the importance, but it has not been a top priority.
"Unfortunately, a global incident, such as a pandemic, has exposed these flaws, and they will struggle to keep clients satisfied while face-to-face meetings are not possible," emphasized Golba.
Related:
Was this article valuable?
Here are more articles you may enjoy.