Hiscox, the global specialist insurer, announced that Mike Krefta has decided to return to the UK in early 2021, having completed almost four years as CEO of Hiscox Re & ILS based in Bermuda. After 17 years with Hiscox, Krefta is looking to pursue interests outside of the insurance sector, and so will be leaving the business at the same time.
The search for his successor has commenced, and an appointment will be announced in due course.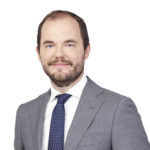 Krefta has worked for Hiscox in both London and Bermuda in a variety of accounting, underwriting and catastrophe modelling roles, predominantly across the insurer's big-ticket businesses. He has served as Hiscox Re chief underwriting officer, joint active underwriter of Syndicate 33 and active underwriter for Syndicate 6104, before becoming CEO of Hiscox Re & ILS and a member of the Executive Committee in 2017.
As CEO of Hiscox Re & ILS, Krefta has overseen a 105-strong team, built a $866.5 million GWP business, and helped significantly grow the company's third party capital capability, including ILS funds which now have assets under management of $1.5 billion.
Krefta has also brought his personal interest in philanthropic and environmental causes to two other roles he has held at Hiscox; as a Trustee to the Hiscox Foundation, the company's charitable foundation, and as executive sponsor for ESG, overseeing the development of Hiscox's ESG strategy.
Bronek Masojada, Hiscox Group CEO, commented: "Mike has made an impressive contribution to the Hiscox Group during his tenure, and we have benefitted from his underwriting expertise, energy and commitment to the group. I would like to thank Mike for all he has done for Hiscox and he leaves with our very best wishes for the next chapter."
"This has been a difficult decision to make as Hiscox is a growing company with a bright future. It has been a great place to build a career, and I look forward to seeing the business prosper – both as a passionate supporter, and as a shareholder," said Krefta.
Related:
Was this article valuable?
Here are more articles you may enjoy.