Ed, the London-based reinsurance, wholesale and specialty broker, announced the appointment of Assad Ulhaq as senior broker and producer with immediate effect. In this role Ulhaq will focus on international property facultative reinsurance, primarily in Europe, the Middle East and Africa.
Ulhaq joins Ed with 10 years of industry experience, having most recently worked at RFIB where he was responsible for the placement of heavy industrial risks in the Middle East.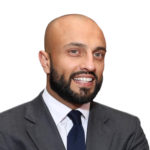 He began his insurance career in 2010 at Aon, following a decade working in the airline industry, where he went on to specialize in property and special industrial risks in Australia, New Zealand, the Nordics, Benelux and South Africa. During his time in Aon's Dubai office Ulhaq worked on regional property business.
"As we expand our international property fac capabilities and respond to the ever-evolving marketplace, it is vital that we continue to attract top industry talent," said Jennifer D'Arcy, head of facultative reinsurance. "Assad brings to the team a wealth of knowledge and global experience in the reinsurance market and his proven ability to build key market relationships will be pivotal in sourcing new business opportunities and providing clients with the best tailored solutions. I am very pleased to welcome him to the team."
A Lloyd's broker, Ed is owned by BGC Partners Inc., a global brokerage and financial technology company.
Source: Ed
Visit the Big Re, Carrier Management's reinsurance hub, for complete reinsurance coverage. Launched during the week of what would have been the Reinsurance Rendez-Vous de Septembre, this special page aims to provide complete reinsurance coverage of, by and for reinsurance professionals and buyers— including news, features, interviews, commentaries, whitepapers, videos, webinars and more.
Was this article valuable?
Here are more articles you may enjoy.