Aon CEO Greg Case has been recognized for advancing the equality of LGBTQ+ employees and individuals.
Specifically, Case was named the No. 1 ally on the INvolve OUTstanding LGBT+ Ally Executives list for 2020. INvolve is a global network and consultancy that promotes diversity and inclusion in business by way of events, programs, thought leadership and advisory approaches.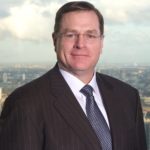 The list on which Case is No. 1 includes executives from a number of other companies including Accenture, AXA's life insurance arm, Procter & Gamble, EY, British multinational insurer Aviva, Goldman Sachs, Bank of England and more.
Case has appeared on the annual list six times, though this is the first time that he hit the top spot. INvolve said that Case, throughout his career, has focused on advancing LGBTQ+ equality and equality across all areas. Under his leadership in 2020, Aon achieved recognition with the Financial Times' annual Diversity Leaders ranking for the second consecutive year, and Stonewall named Aon to its 2020 Top 100 Employers list.
The Human Rights Campaign Foundation's 2020 Corporate Equality Index named Aon as one of the Best Places to Work for LGBTQ+ Equality and gave the firm its highest score for the 13th consecutive year. During Case's tenure, Aon has applied anti-discrimination policies, offered inclusive benefits for LGBTQ+ colleagues and sponsored business resource groups' LGBTQ+ inclusion initiatives, INvolve said.
In 2020, guided by Case's co-sponsorship, Aon formed the Global Inclusive Leadership Council, which includes 21 colleagues focused on inclusion and diversity efforts. The council provides advice, recommendations and accountability for Aon's inclusion and diversity strategy and related actions.
Aon also recently announced a $30 million investment over the next five years to expand its corporate apprenticeship program. The program helps bridge the gap between education and employment while supporting Aon's efforts to build a more diverse pipeline of talent. At the end of 2020, OneTen, a coalition of chief executives and their companies committed to hiring one million Black Americans in 10 years, announced Case as one of its founding CEOs. The coalition will invest over $100 million to create opportunities, connect with talent and training partners, and build demand for diverse and underrepresented talent in the workforce, especially those without four-year degrees.
The annual OUTstanding LGBT+ Role Model Lists reflect the powerful achievements of LGBT+ people in the business community. The Ally Executives category spotlights the contributions of 50 senior executives who are driving inclusion of LGBT+ people in the workplace.
Source: Aon, INvolve
This article first was published in Insurance Journal's sister publication, Carrier Management.
Was this article valuable?
Here are more articles you may enjoy.