South Africa declared floods that killed more than 300 people in the eastern KwaZulu-Natal province a disaster, enabling the government to free up funds to assist with reconstruction in the area.
The heaviest rainfall in at least six decades last week caused landslides, interrupted port operations, damaged roads and washed away houses. At least 341 people died as a result of the floods, KwaZulu-Natal's premier Sihle Zikalala told journalists in an online briefing. More than 40,000 people have been affected and the cost of the disaster "will run into billions" of rand, he said.
Damage caused by the floods will deal a "significant" setback to the nation's economic recovery, the South African Chamber of Commerce & Industry said in an emailed note.
"Many businesses have been lost as their premises, equipment and property has been damaged and this will threaten jobs and livelihoods," it said. "We urge the government to do everything in its powers to assist our businesses to mitigate the risks they are facing."
'Severe Damage'
KwaZulu-Natal province is the second-biggest contributor to South Africa's $429 billion gross domestic product. The Port of Durban is sub-Saharan Africa's largest container hub, handling 60% of the country's shipments and transporting goods and commodities to and from nations in the region as far north as the Democratic Republic of Congo.
Transnet SOC Ltd., the state-owned company that runs the port, said shipping has resumed after debris was cleared from the harbor. The company has identified alternative routes for trucks to reach container and liquid bulk terminals, after the floods cut several access roads. Rail yards have been partially reopened and some trains were being moved to the container terminal, it said in an emailed statement Thursday.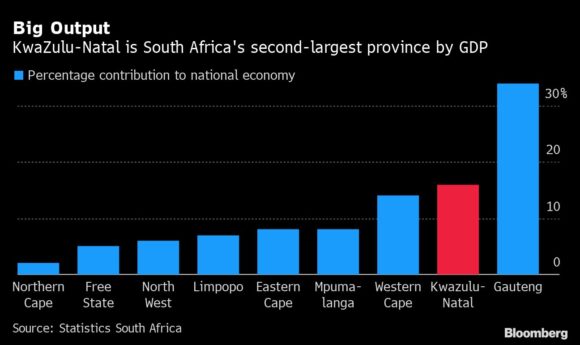 Damage to the port forced A.P. Moller-Maersk A/S to close its offices at the harbor this week. The world's biggest container line said Thursday its resumed operations at berths and found no damage to shoreside equipment.
"The biggest constraint is access to the terminal," the company said on its website. There has been "severe" damage to a key road to the terminal at the port and no trucks can enter or exit, while railways into and out of the terminal remains suspended, it said.
Toyota Motor Corp., one of the country's biggest car manufacturers, said the floods caused extensive damage to its Prospecton plant south of Durban, though its still assessing the full extent of the destruction.
'Unfortunate Situation'
"Although plant operations are temporarily halted, clean-up operations have already commenced," the company said in an emailed response to questions. Toyota "is working to recoup the lost time as well as mitigate — as much as possible -– the knock-on effect of delays arising from this unfortunate situation."
The disaster unfolded less than a year after a week of rioting and looting in KwaZulu-Natal and Gauteng provinces cost the economy an estimated 50 billion rand ($3.5 billion) in damages and left more than 300 people dead.
This is in Ntuzuma, one of the areas which was visited by President Cyril Ramaphosa today after yesterday's floods pic.twitter.com/oXkDqmJTl4
— S'thembile Cele (@thembile_cele) April 13, 2022
The flooding also affected the operations of mobile-phone operators MTN Group Ltd. and Vodacom Group Ltd., paper company Sappi Ltd. Insurers Old Mutual Ltd. and Santam Ltd. said they are assessing the extent of the destruction.
More rain is forecast in KwaZulu-Natal this weekend, with the risk of localized flooding and strong, damaging winds, according to the South African Weather Service.
–With assistance from Loni Prinsloo, Paul Richardson and Robert Brand.
Photograph: A general view of a severely damaged home and a crack in the road following heavy rains and winds in Durban, on April 12, 2022. Photo credit: Rajesh Jantilal/AFP/Getty Images.
Copyright 2023 Bloomberg.
Was this article valuable?
Here are more articles you may enjoy.