Lloyd's of London announced that Andrew Brooks has been appointed as deputy chair of the Council of Lloyd's.
Brooks recently stepped down as chief executive officer of Ascot Underwriting Ltd. – a position he held for 15 years. He also was an active member of the Ascot Board from 2004- 2023.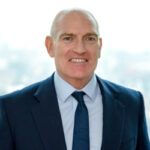 Brooks joined Ascot at its inception in 2001 and was promoted to chief underwriting officer in 2005. He is also a non-executive director of Azur Underwriting Ltd. He has worked in the Lloyd's Market since 1983 and is currently a member of the London Market Group Board and chairman of the Lloyd's Market Association. He is ACII qualified and will serve on the Lloyd's Claims Implementation Board as well as Nominations & Governance Committee.
"With nearly 40 years of experience in the Lloyd's Market and over five years serving on Lloyd's Council, I am delighted that Andrew has accepted my invitation to become deputy chair," commented Lloyd's Chairman Bruce Carnegie-Brown.
"I look forward to continuing our work together on the Council, delivering against our performance, digitalisation, sustainability and cultural goals during an important period for both Lloyd's and the wider insurance industry."
"My time both within the Market and on Lloyd's Council has been immensely rewarding so far. Through my work at Ascot, I've been lucky enough to play a part in cementing Lloyd's as the global destination for specialty insurance and look forward to continuing to ensure it remains a hub of expertise for the future," said Brooks.
"My priorities as deputy chair will be to further develop Lloyd's strategic priorities, which will enhance value for all stakeholders, and I'm excited to get started."
Source: Lloyd's
Topics Excess Surplus Lloyd's
Was this article valuable?
Here are more articles you may enjoy.