Three fires broke out at the Grundon waste disposal plant near London's Heathrow Airport in the past six months. In each case, the chief suspects were disposable vaping devices containing lithium batteries.
Owen George, who leads recycling for Grundon, said the volume of discarded vapes has soared over the past two years and poses a growing risk because the small batteries "can catch fire or pollute the other recycling."
The fires are just one consequence of the popularity of disposable vapes. The brightly colored e-cigarettes are also flooding the environment with plastic waste, creating an eyesore in parks and across city centers. And while UK health authorities say vaping helps smokers kick the habit, teachers warn that it's setting a whole new generation of UK students on the path to nicotine addiction.
Laura Young, an environmental activist in Scotland, is urging politicians, businesses and charities to seek a ban on disposable vapes. Dundee City Council in the northeast of Scotland has backed her campaign, while the UK government is considering legislation to ensure vaping manufacturers foot the bill for the collection and disposal of used products.
"These have absolutely no place in an economy that is trying to be circular and reach net zero," said Young, 26.
Vapes heat liquids to create an inhalable mist, providing a nicotine hit without at least some of the harmful health effects of burning tobacco. While single-use e-cigarettes can be recycled, they require special treatment and are frequently tossed in the garbage or into the gutter, with the lithium still inside. The metal is an essential material in rechargeable batteries that power everything from mobile phones to electric cars.
Disposable vapes have been on the market for years but exploded in popularity during 2021 and 2022. By last summer, festivals, beer gardens and parks were filled with clouds of fruity smoke, with names such as Cotton Candy, Peach Ice and Bubblegum. As more entrants came to market, often offering vapes for £4 or £5 a pop, sales soared, leading to a corresponding increase in waste.
Material Focus, a non-profit organization funded by fees collected from electrical manufacturers who fail to meet annual recycling targets, estimates that 1.3 million disposable vapes are binned weekly in the UK, or about two every second. The group says that 90% of the smaller vape and vape juice producers in the country are failing to comply with environmental regulations.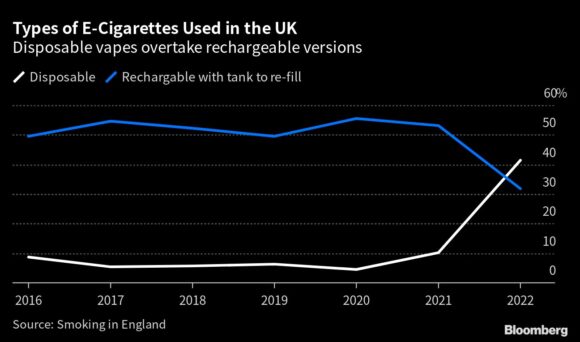 The vaping industry, which includes big cigarette makers such as Philip Morris International Inc., is under pressure to reduce waste. PMI, the maker of Marlboros, is offering free vapes to customers who return products for recycling.
The company sends the used e-cigarettes to recycling centers in Europe — where the raw materials are re-purposed — but it concedes that less than half of users are returning their devices. In the UK, it's targeting 20% to 25% compliance.
"It's going to be an education process initially because consumers are not used to recycling a daily-use product," Ashok Ram Mohan, the president of eVapor at PMI in Lausanne, Switzerland, said in an interview.
Litter Pickers
Each day, Eric Torrington picks up a blue Ikea bag and heads out for a walk around his home in Dursley, Gloucester. On a regular jaunt, the semi-retired engineer will return home with at least five disposable vapes found on the roadside or around industrial parks.
The past few months have been particularly fruitful — Torrington, 62, now has more than 500 disposable vapes in his garden, waiting to be dismantled and recycled. "I'm finding loads of Lost Mary's at the moment, which is a particularly popular brand," he said.
In Buckinghamshire, bus driver Richard Walker runs a litter-picking group in his spare time — often out both days at the weekend and twice during the week. The group, which was started four years ago by his daughter Abigail, now 18, collected almost 500 disposable vapes last month.
Walker, 45, takes as many of the vapes as he can back to shops to recycle. "We find most of them around schools and colleges," he said.
School Haze
While Britain's National Health Service recommends vaping as a useful tool to help adults quit smoking cigarettes, the US takes a less favorable view. It banned flavored vapes and increased the legal age for use of any tobacco-related product to 21.
In the UK, teachers report an epidemic of vaping among students.
At All Saints Catholic College in Kensington, west London, the negative health effects of vaping are taught as part of the curriculum, and students face suspension if they're caught. Yet teachers still find vapes in trash bins or strewn outside the school.
All Saints is determined to stamp out the habit. Paul Walton, the deputy head teacher, is considering a costly solution to stop pupils from vaping inside the school bathrooms — adding sensors that detect the vapor. At £220 ($267) each, installing the devices across the school would cost about £6,500.
"If it's an extra deterrent, then it might be worth the investment," he said.
Waitrose, the UK supermarket chain, has curtailed the sale of single-use vapes altogether. Offering the products "is not something we could justify given the impact on both the environment and the health of young people," Commercial Director Charlotte Di Cello said in a statement.
Cleaning Up
Until disposable vapes took off, e-cigarettes were largely designed to be refilled and recharged, for repeated use. A different smoking alternative, IQOS, the heat-not-burn cigarette from Philip Morris International, comes with tobacco sticks that are "smoked" and then discarded — while the consumer reuses the heating device.
The UK government has no immediate plans to introduce a ban on disposable vapes, though it is looking at updating regulations on electrical waste and recycling. "We will consider what changes in legislation are needed to ensure the vaping sector foots the bill for the collection and treatment of their used products," said a spokesperson for the Department for Environment, Food and Rural Affairs.
Meanwhile Catherine Gemmell, Scotland conservation officer at the Marine Conservation Society, said disposable vapes are not only contributing to plastic pollution but are also leaking toxic chemicals into the sea. "Disposable options are a step backward when we need to be moving toward a society of reuse," she said.
–With assistance from Andy Hoffman, Eamon Akil Farhat and Julius Domoney.
Photograph: A person exhales vapor while using an electronic cigarette device at a smoke shop in New York, U.S., on Wednesday, Jan. 8, 2020. Photo credit: Michael Nagle/Bloomberg
Copyright 2023 Bloomberg.
Was this article valuable?
Here are more articles you may enjoy.