A giant oil tanker that was detained in China failed its safety inspection on more than 20 counts, spotlighting the dangers posed by a rapidly expanding fleet of aging vessels sailing the world's oceans.
The ship, currently called the Titan after being renamed seven times, is managed by a company whose address is a postbox in the Seychelles. While the vessel's owners are hard to trace, it's also not clear what insurance the Titan has in place.
Insufficient documentation, safety lapses and murky backgrounds are all too typical of so-called dark-fleet tankers that have proliferated since Russia's invasion of Ukraine. Sanctions from the Group of Seven nations on Russian oil, as well as existing ones on Iranian and Venezuelan cargoes, have created a booming trade for these old vessels operating outside of western oversight.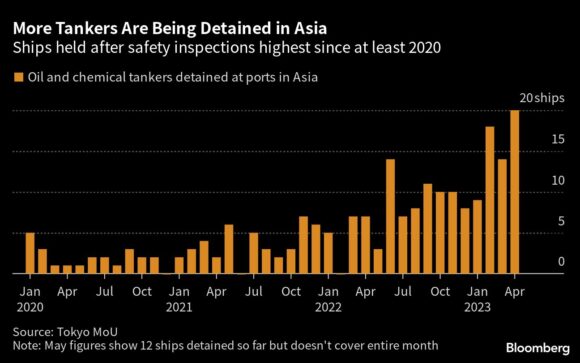 Detentions of tankers have been rising over the past year amid increasing safety concerns, with more vessels held at Asian ports in April than any other month since at least January 2020. A port in China has stepped up safety checks in recent weeks, marking a potential shift in attitude toward the aging vessels that have helped deliver the country a slew of Russian, Iranian and Venezuelan oil.
Indeed, the Titan — which was built 20 years ago — was stopped in the northeastern port of Qingdao not because it had been carrying about 2 million barrels of oil from Iran, but for the possible danger it presented.
China and other maritime states had a glimpse of those risks earlier this month. About 10 days after departing the nation's shores, another dark-fleet vessel, the Pablo, blew up off the coast of Malaysia. Though the cause of the explosion is unclear, it is thought that vapors from the remains of the oil cargo may have played a part.
Among Titan's 23 deficiencies were oil accumulation in its engine room and fire safety issues with its inert gas system — the very equipment that helps prevent vapors exploding. After being detained on April 29, the ship was released on May 2 and was last seen sailing close to Taiwan.
Since 2019, Titan has hauled a series of Iranian crude oil shipments, according to data intelligence company Kpler. The vessel carried about 16 million barrels of Iranian oil in 2022, according to data from United Against Nuclear Iran, which tracks the nation's crude exports.
An Oil Tanker Ablaze in South China Sea Is Warning of Global Problem
Seapalm Shipping Ltd. is listed on multiple maritime databases as its manager, with no other current owners and only the Seychelles postbox and a generic email address for contact details. A message to the email address didn't immediately receive a reply.
The Titan was last known to fly under the flag of Cameroon, the only state listed as "high risk" by Paris MoU, an organization that helps ensure safe shipping. Of the 211 vessels of various types that Clarkson Research Services sees using the country's flag, only seven are less than 10 years old. The youngest large oil tanker is 19 years old.
Unlike the regular merchant fleet, dark tankers often lack industry-standard insurance. Titan isn't registered with any members of the International Group of P&I Clubs, which provide such cover.
–With assistance from Alaric Nightingale.
Photograph: The impounded Iranian crude oil tanker, Grace 1, is silhouetted as it sits anchored off the coast of Gibraltar on Saturday, July 20, 2019. Photo credit: Marcelo del Pozo/Bloomberg
Related:
Copyright 2023 Bloomberg.
Was this article valuable?
Here are more articles you may enjoy.