In 2021, a series of HSBC advertisements started appearing on bus stops around the UK. Part of a campaign centered on the slogan "Climate change doesn't do borders," the posters paired images of trees and ocean waves with statements about the bank's efforts to finance the transition to net zero and help plant 2 million trees.
Adfree Cities, a campaign group that targets street ads, wasn't having it. The group complained about the HSBC campaign to the Advertising Standards Authority (ASA), a UK industry regulator. In its review of the complaint, the ASA found that HSBC had sent $130 billion of financing to fossil fuel companies in recent years. The agency banned the ads for greenwashing.
An HSBC spokesperson says the financial sector "has a responsibility to communicate its role in the low-carbon transition," adding that the bank has "made good progress, including publishing an updated energy policy and expanding our financed emissions targets to more sectors."
But Guy Parker, chief executive officer of the ASA, says HSBC needed to be clearer with consumers about its fossil fuel funding. The ads were nixed "not because what they were saying in the ads was untrue," Parker told Bloomberg Green. "But because of what they weren't saying."
HSBC isn't alone: Since 2021, the ASA has banned three fossil fuel advertising campaigns on the same grounds, plus ads from companies as varied as Oatly (oat milk), Unilever (laundry detergent) and Lufthansa (air travel). The ASA isn't alone, either. Globally, regulators are starting to fight back against greenwashing, or the practice of misleading consumers on sustainability.
In the UK, where the ASA operates, the Competition and Markets Authority (CMA) is investigating major fashion brands over vague green claims. The Australian Competition & Consumer Commission (ACCC) lists sustainability communication among its key priorities, and in Italy an oil company was fined €5 million for calling its diesel "green." The US Federal Trade Commission (FTC) is currently updating its guidelines on sustainable claims, and last year fined Kohl's and Walmart for marketing rayon fabric as bamboo.
"This is an important moment in greenwashing regulation, essentially because there hasn't been one before," says Jonathan White, a lawyer at ClientEarth, an environmental law charity. "If you look across jurisdictions, from the UK to the EU to the US, even elsewhere to Asia, you get the very clear sense that legislators and regulators are doing something about this and want to be seen to be doing something about this."
The range of agencies tackling greenwashing is indicative of its ambiguity and breadth. Dubious sustainability claims can be found in TV commercials, print ads, online ads, product descriptions and on packaging, not all of which are regulated by the same bodies.
There's also evidence that the prevalence of green claims is increasing. A 2014 study by the European Commission found that 76% of non-food products carried an environmental claim, either implicitly or explicitly. According to to a report by UK consumer research agency Mintel, 46% of beauty and hygiene products carried environmental or ethical claims in 2019, up from 27% in 2015. Another study by Australia's Consumer Policy Research Centre (CPRC) found that a consumer in Australia might see 122 green claims within a 24-hour period. Less than a third had any verification or detail to allow someone to assess their accuracy.
Consumers are getting tired and disillusioned. A UK survey released on Monday by the consultancy KPMG found that a third of people were skeptical of green labels and sustainability claims, and over half would stop buying from a company found to have engaged in greenwashing.
The boom in green claims reflects growing consumer attention: In one recent survey, 68% of Americans said they would choose a more environmentally friendly product even if it cost more. That enthusiasm presents a big opportunity for advertisers, and a big challenge for regulators — who don't always have mechanisms in place to push back on incomplete claims.
Australia, for example, prohibits companies from misleading or deceiving consumers, and from engaging in "unconscionable conduct." But Erin Turner, chief executive officer at the CPRC, says many advertising claims don't meet that high a bar — they're more likely to be vague, or minimally justified, than actively deceptive. One company, for instance, claimed "Our freezers are greener" in an ad, begging the question: Greener than what?
"My sense is that the Australian regulators are looking to use their powers to the limit on greenwashing," Turner says. "But the powers [that] regulators have aren't fully going to deal with the problem." Turner describes greenwashing as an unfair trade practice that does repeated low-level harm to a wide population of customers, something local laws aren't currently equipped to tackle.
In Hong Kong, some of the most successful greenwashing regulation has focused on energy-efficiency claims. After the Hong Kong Consumer Council (HKCC) conducted tests that found certain dehumidifiers were less efficient than claimed when used with HEPA filters, the dehumidifiers were recalled by the government. In the US, successful FTC cases have likewise focused on the materials and properties of products — think rayon labeled as bamboo, or paint marketed as "emissions-free."
"When we look overseas, there are a number of things we can learn," says HKCC Chief Executive Officer Gilly Wong, citing the FTC's Green Guides in the US and the CMA's Green Claims Code in the UK. "The pace has to be in sync and can't be slowed down and even has to be accelerated, to attack all of these kinds of claims."
While regulation is the order of the day in Europe, in the US some green claims are scrutinized through legal action. In June, Oregon's Multnomah County sued a handful of oil companies over a 2021 heat dome it described as a "direct and foreseeable consequence" of the companies' decision to publicly downplay fossil fuel pollution. Oil majors have called the suit unproductive.
The city of New York and the state of Connecticut have also brought cases against oil companies for misleading the public about the climate-changing effects of fossil fuels.
"Europe's regulators are far more active, whereas cycles of enforcement through litigation are more likely to determine whether a similar level of attention emerges in the US," says Danny Cullenward, a senior fellow at the University of Pennsylvania's Kleinman Center for Energy Policy. "There are signs, including public client advisories from law firms that advise major corporations, that high-priced US lawyers see this coming."
The UK's Grantham Institute identified 26 such "climate-washing" cases globally in 2022, compared with fewer than 10 in 2020. While the US dominates, other countries are also taking alleged greenwashers to court. A German company was sued in 2020 for describing its fruit jam as "climate-neutral," and last year a Netherlands judge ruled that Chiquita couldn't call its bananas climate-neutral. In the US, a complaint filed to the Securities and Exchange Commission in February by the nonprofit Global Witness alleges that Shell overstated its investments in renewable energy, a charge the company denies.
The Grantham Institute report also identified legal challenges to "state-sponsored greenwashing." One such challenge, brought by an Australian think tank, claims that a government-backed "Climate Active" certification is misleading and applied too broadly.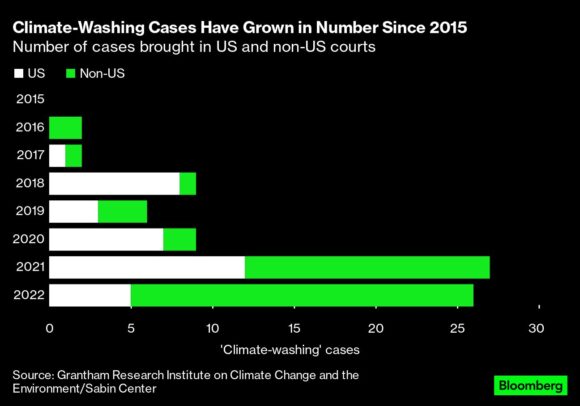 Every approach to tackling greenwashing has its limitations. Even the most active regulators have a Whac-a-Mole problem thanks to the proliferation of sustainability claims. Litigation is inherently reactive, and doesn't necessarily prevent future violations. The same goes for banning ads; it's a slow process that doesn't stop oil and gas companies from continuing to develop new campaigns. The FTC, meanwhile, has split priorities. It's charged with both consumer protection and antitrust, including high-profile cases against Big Tech.
"I'm concerned that even with a strong update to the Green Guides, there is still an enforcement gap," says Cullenward. "One that requires personnel, prioritization and encouragement from senior policymakers."
In some cases, the limitations have to do with the sheer variety of green products and promises. Identifying a sustainable cleaning product, for example, might involve evaluating claims about emissions, plastic use, water waste and packaging recyclability. Greenwashing is also different from traditional consumer-protection causes, such as misleading health claims, in that it can focus more directly on harm to the natural world than harm to the consumer.
"The consumer protection laws only go so far because they ultimately are aiming to protect free and informed consumer choice," says White at ClientEarth. "They're not aiming to protect future generations."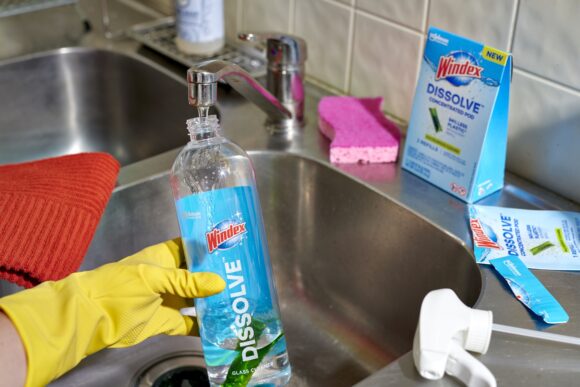 Talk to those involved in greenwashing regulation, though, and you'll get the impression that advertisers are on notice. It's no longer possible to claim ignorance of the rules around green advertising, even if plenty of companies ignore them.
Parker at the ASA takes partial credit for the pressure that's been put on companies it targeted, noting that HSBC announced in December that it would stop funding new oil and gas projects. Cecilia Parker Aranha, director of consumer protection at the UK's CMA, says its conversations with fashion companies suggest they are scrutinizing their supply chains to better support claims about environmental harm. Last year, Asos removed its "responsible edit" filter and collection after it became aware of a CMA investigation.
The CMA is also planning to look at other practices, including those that cut across industries, like using carbon offsets in emissions claims. "I expect, from a regulatory perspective, more countries will start to get more specific on what you can and can't do," Aranha says.
As greenwashing enforcement spins up, ad agencies in particular may find themselves caught between clients eager to make sustainability claims and regulators looking to scrutinize them. Oil companies could struggle to secure an agency at all: When Shell's advertising account went up for grabs this year, few agencies admitted publicly to pitching for it. Globally, 688 agencies have signed a pledge not to work with clients in polluting industries, according to campaign group Clean Creatives.
"You need to make sure the organizations you are working with are sound," Suzanne Barker, a strategy partner at ad agency AMV BBDO, said at a Bloomberg Live event this year. "If we have clients who want to talk about something and it's just not true, or they don't have that story to tell, then we have to say no."
There are also growing calls for one simple fix: treating oil and gas more like tobacco. A 2005 treaty established rules around the promotion and sales of tobacco products, significantly limiting ads for them in the process. It has since been signed by 182 countries covering 90% of the world's population.
"Where it ends is the call for something that is more holistic, like the tobacco control treaty, that basically [would] prohibit all fossil fuel advertising, all fossil fuel involvement in public policy, along with all of the price and tax measures," says White. "That piece of net zero governance is where this goes."
–With assistance from Tiffany Tsoi and Katharine Gemmell.
Top photograph: A thermometer reading 116F during a heat wave in Portland, Oregon, in June 2021. Photo credit: Maranie Staab/Bloomberg
Copyright 2023 Bloomberg.
Was this article valuable?
Here are more articles you may enjoy.