British workers coming into the office every day outnumber those who spend part of the week working from home, for the first time since the end of pandemic restrictions.
A survey by recruitment company Hays Plc of nearly 15,000 white-collar staff and employers found that 43% were working entirely from the office last month, up from 36% a year earlier.
The proportion of office workers on a hybrid pattern, spending some time working from home, dipped to 39% from 43% in 2022. Fewer than one in five now work entirely remotely.
Despite the increase in office attendance, bosses still aren't satisfied. Almost a quarter of employers plan to ramp up staff attendance over the next 12 months, the report shows.
"Organizations would prefer to have people in the office," said Gaelle Blake, head of permanent appointments at Hays for the UK and Ireland. "But the workers themselves are saying that they wish to have flexibility."
Some staff are ignoring demands to come to the office, separate reports have shown. Employees only come in for an average of two days a week when bosses are mandating three or four days, according to research by AWA, a workplace consultancy. When firms required staff to be in full time, less than 70% of employees complied with the policy, a recent BCG study found.
"You may get a company saying 'I want you in three-four days a week' but the people that actually control the business — the actual line managers — will demonstrate flexibility because they want to retain talent," said Mark Hall, UK head of LHH Recruitment Solutions. "They're doing a delicate balancing act."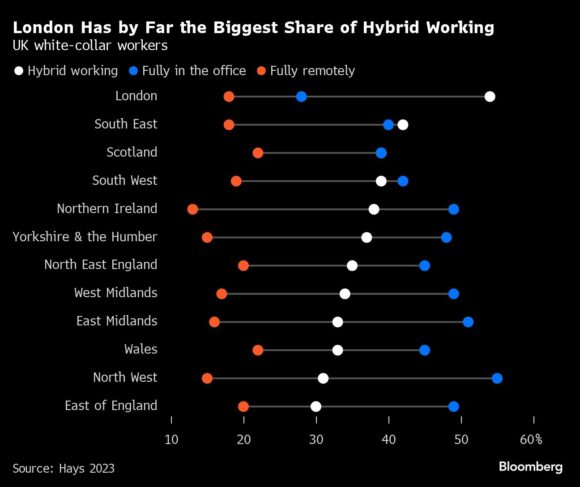 Less than a third of London's white-collar employees are back in the office full time, the lowest level in the UK, the Hays report also showed. Yet Londoners are also among the least likely to work from home all the time. This reflects the capital's competitive jobs market in which companies and employers have reached a middle ground, according to Blake.
Photograph: Commuters exit London Waterloo railway station in London. Photo credit: Jason Alden/Bloomberg
Copyright 2023 Bloomberg.
Topics Trends
Was this article valuable?
Here are more articles you may enjoy.