North Dakota corn farmers are having a tough time getting their crop in the ground because of a wet spring, and U.S. Sen. Heidi Heitkamp is asking the federal government to help them out.
The Democratic senator is calling on the U.S. Department of Agriculture to delay the May 25th crop insurance corn planting deadline that is in place for most North Dakota counties. After that date, farmers will see reduced crop insurance coverage because their crops will be deemed more susceptible to summer heat or fall frost. Their only other option would be to not seed a crop and take a "prevented planting" insurance payment, which farmers say are much less than what they could make growing and selling a crop.
"With an extension, we can provide our hardworking farmers with some more time to make their very consequential decisions, and potentially save USDA money with less of them using the prevented plant claims in the crop insurance program," Heitkamp said in a statement. "I have spent a lot of time discussing this issue with our producers, and am confident it is in all of our best interests to push this deadline back."
A spokesman for USDA's Risk Management Agency, which oversees the crop insurance program, did not immediately respond to an Associated Press request for comment Tuesday.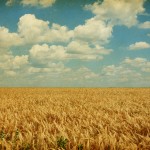 Less than one-fifth of North Dakota's corn crop is in the ground, according to the latest figures released Monday by the National Agricultural Statistics Service. Normally at this time of year, more than half of the crop is seeded.
"It's really a mess here," said Andrew Braaten, who has been farming near the southeastern town of Barney since 1989. "I've never been in this situation."
Normally he would have all of his corn seeded, but as of Tuesday had none in the ground, Braaten said.
Braaten farms in one of four southeastern North Dakota counties in which the planting deadline is May 31st. It is May 25th in the other 49 counties.
Copyright 2021 Associated Press. All rights reserved. This material may not be published, broadcast, rewritten or redistributed.
Was this article valuable?
Here are more articles you may enjoy.