Zurich North America's new headquarters building in Schaumburg, Ill., has been completed as an LEED Platinum building as certified by the U.S. Green Building Council (USGBC).
The 783,800 square foot building will be home to nearly 3,000 employees and contractors, and was designed following the crowdsourcing of ideas from employees regarding workspace features. The result is a corporate campus that enhances communication, collaboration and wellness. A number of the employee ideas incorporated into the new building are also now being implemented in other Zurich offices around the country.
The building was awarded the LEED Platinum certification, the highest rating available, for the facility's environmental sustainability initiatives. The building includes multiple green roofs, energy efficient technologies, rainwater harvesting and re-use, accommodations for electric and low-emitting vehicles and native landscape with more than 600 trees on 40 acres.
"This building is a showcase of all we are at Zurich: its excellence in design, its focus on sustainability, and its reflection of our employees," said Mike Foley, chief executive officer for Zurich North America. "Our new headquarters building embodies a new chapter for our organization and our recommitment to the North American market as part of our broader, global business plan. We see a bright future for our customers, shareholders and employees."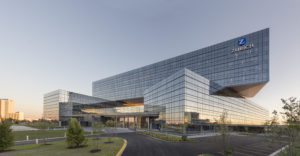 Zurich said it values its ongoing role as a good corporate citizen in the community, providing thousands of jobs and generating approximately $1.3 billion annually in economic impact to the Illinois economy. The company's previous headquarters building was also in Schaumburg.
The company has been located in Illinois for more than 100 years, according to Dennis Kerrigan, chief legal officer and executive sponsor of the new headquarters project.
Clayco is the developer and design-builder. The building was designed by architectural firm Goettsch Partners. The interior design was completed by CannonDesign, and the interior was built by Executive Construction, Inc. (ECI). The landscape was designed by Hoerr Schaudt. JLL's Build to Suit practice group coordinated all development and financing activities.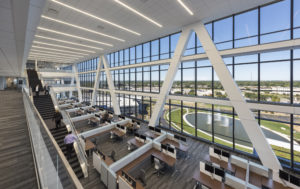 The new Zurich North America headquarters also includes a memorial garden for four Zurich employees – John Keohane, Peggy Alario, Kathy Moran and Lud Picarro – who died in the September 11 terrorist attacks. The company created the KAMP Remembrance Garden in their honor. KAMP is an acronym representing each of our colleagues' names and also serves as a reminder about Keeping a Meaningful Perspective − something that each of them exemplified in their lives and careers.
Source: Zurich NA
©James Steinkamp Photography
Was this article valuable?
Here are more articles you may enjoy.