North Dakota Gov. Doug Burgum is seeking a presidential disaster declaration, saying the state is "the epicenter of drought for the nation" because of a rain-free summer.
Burgum said in a statement that his request to President Donald Trump would be sent via the Federal Emergency Management Agency's regional office. A presidential declaration would pave the way for direct federal disaster payments to farmers who are facing the prospect of little or no crops and to ranchers who have nothing to feed the cattle they haven't sold off.
The latest U.S. Drought Monitor map shows 82 percent of North Dakota in some stage of drought. Most of central and western North Dakota remains in extreme or exceptional drought, the two worst categories.
"Our state climatologist … indicated North Dakota has reached the D4 (exceptional) category only two times in the last 100 years," Burgum said in his nine-page letter to Trump.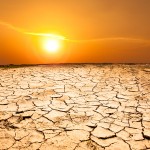 The governor also is asking for federal agencies including the Agriculture Department to help drought-stricken producers through aid programs.
State Climatologist Adnan Akyuz, a professor of climatological practice at North Dakota State University, told The Associated Press that there is no simple explanation for the drought. There are a variety of factors, including less moisture coming up from the Gulf of Mexico and the jet stream staying farther to the north and not contributing to rain storms in North Dakota, Akyuz said.
Dry soil also causes warmer air temperatures that demand more moisture, further parching the soil in what Akyuz describes as a "wicked cycle."
"The drought really feeds into itself," he said.
The federal Agriculture Department has declared numerous North Dakota counties to be disaster areas, and Burgum in late July also declared a drought disaster. That has opened to door to various forms of aid, such as emergency loans and haying and grazing of conservation land that normally is left untouched.
North Dakota Farmers Union, the state's largest general farm group, late last week called for direct federal disaster payments for drought-impacted farmers and ranchers, the same aid Burgum is now requesting.
"There have been great efforts to get hay and forage into the hands of ranchers, but that won't fix the financial disaster that is looming," state Farmers Union President Mark Watne said. "The federal government needs to step up."
Copyright 2023 Associated Press. All rights reserved. This material may not be published, broadcast, rewritten or redistributed.
Topics Agribusiness
Was this article valuable?
Here are more articles you may enjoy.