Additional charges have been filed against a suburban Chicago man accused of posing as an Uber driver who picked up women outside bars and raping them.
Musaab Afandi of Glenview appeared at a bond hearing Wednesday after DNA testing linked him to three sexual assaults dating back a year before his March arrest.
Cook County Circuit Judge David Navarro ordered the already jailed Afandi held without bond on the latest charges of aggravated sexual assault and kidnapping.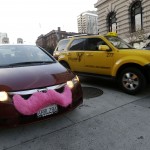 Assistant State's Attorney Jillian Anselmo said the latest charges include an attack in April 2016. That's when a woman waiting for an Uber outside a North Side Chicago bar was picked up by the 33-year-old Afandi. He allegedly drove onto a poorly-lit street, climbed into the back seat and raped her.
Assistant Public Defender Mark Davidson did not comment on the new charges against Afandi.
Copyright 2018 Associated Press. All rights reserved. This material may not be published, broadcast, rewritten or redistributed.
Was this article valuable?
Here are more articles you may enjoy.