MarketScout recently released its market barometer update for the month of September.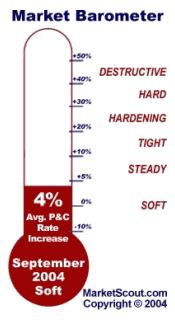 According to Richard Kerr, chairman and CEO of MarketScout: "Estimated total insured losses for the 2004 hurricane season will exceed $20 billion. As a result, the property market is stabilizing. We expect the recent trend of property rate reductions to cease and in fact, anticipate rate increases for coastal properties and offshore oil and gas operations. The total loss to insurers could grow if losses applicable to Florida policyholders from Charley and Frances are deemed to be counted as a single loss and only one deductible is applied. The application of the deductible clause is unclear at this point."
"Casualty rates continue to decrease. D&O and E&O coverages experienced the largest rate increases over the last several years and as a result, the decreases in the September market correction are significant," Kerr said in statement.
"Composite rates held at 4 percent for September. In the absence of the recent spate of property losses, insurance rates would be on a definite downward trend. We expect property rates to stabilize or increase over the short term and casualty rates will continue to decrease."
Was this article valuable?
Here are more articles you may enjoy.