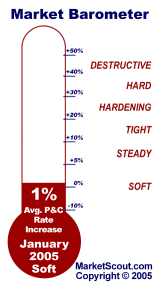 Dallas-based MarketScout (www.marketscout.com) reported this week that January 2005 property and casualty rates increased by a composite rate of 1%.
According to Richard Kerr, chairman and CEO of MarketScout, "The market is continuing its downward trend. The ultimate impact of rate reductions will be felt by insurers but not as dramatically as first anticipated.
"Eliminating broker's incentive compensation will offset rate reductions. Some, but not all, insurers will pass these savings on to the ultimate consumer."
Topics Trends Pricing Trends
Was this article valuable?
Here are more articles you may enjoy.