An insurance agent organization revealed a new brand identity — including a new logo and tagline. The AMS Users Group changed its name and is now known as the Network of Vertafore Users, or NetVU.
NetVU revealed its new brand identity, which includes a new logo and the tagline Empowering Agency Success, during the Group's 34th National Conference, held in March at the Gaylord Opryland Hotel & Convention Center in Nashville, Tenn.
"Our new identity is more than just a new logo," said James T. Armitage, the 2009-2010 president of the Users Group and vice president of Arroyo Insurance Services of Arcadia, Calif. "It is a clear reflection of our role as an industry leader and as an organization dedicated to world-class education, advocacy and networking."
"NetVU's new name echoes our core values and our 'view' of the future," said Brady Polansky, CEO of NetVU. "The 'thought bubbles' in the logo indicate the exchange of information — with Vertafore, with the industry and with each other — that is crucial to our membership. And the tagline describes our ultimate purpose: to help agents succeed."
Source: NetVU, www.netvu.org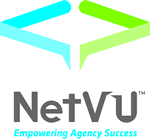 Was this article valuable?
Here are more articles you may enjoy.