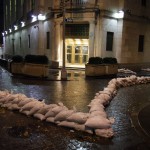 Hurricane Sandy will close U.S. stock markets for a second day on Tuesday, as Wall Street turned its attention to whether markets would be able to resume functioning on the month's final trading day on Wednesday.
U.S. stock markets closed on Monday due to weather for the first time in 27 years. Bond markets closed early, at noon, as winds and waves from Hurricane Sandy lashed the Eastern seaboard.
NYSE Euronext and Nasdaq OMX Group, the largest two U.S. exchange operators, said they intend to reopen Wednesday, conditions permitting. The bond markets will also close on Tuesday, with traders aiming to reopen on Wednesday.
Wednesday is a key trading day because it marks the end of the month, when traders price portfolios. With New York still to feel the full impact of the storm Monday evening, fears remained that wind damage and possible power outages could test the ability of markets to reopen. New York's mass transit system, which most employees use to get to work, also remained shut and it was unclear when service would be restored.
Fierce winds and flooding were felt along hundreds of miles of Atlantic coastline and heavy snows were forecast farther inland at higher elevations as the center of the storm moved ashore along the coast of southern New Jersey or Delaware on Monday evening. [ID: nL1E8LT3SI]
The broad effects of the market shutdown were beginning to become more apparent by late Monday, as analysts estimated banks and trading firms could lose tens of millions of dollars in revenue.
Some companies postponed their quarterly earnings reports, and banks closed branches in the Northeast, while promising to waive certain fees in hurricane-threatened areas.
Disaster modeling company Eqecat said the storm is likely to cause insured losses of $5 billion to $10 billion, and economic losses of $10 billion to $20 billion.
The trading closure also threatened to delay IPOs of at least six companies, while Facebook Inc employees were prevented from selling shares in the social media company after a "lock-up" on trading expired.
"If you go two days, you really start to create some serious financial stress for some players that need to get something done," said Jim Paulsen, of Wells Capital.
As Hurricane Sandy began battering the U.S. East Coast on Monday, many Wall Street employees stayed home. Major Wall Street banks had planned to open with skeleton staffing, but with the stock and options markets closed and the bond market closing at noon, many people said they had little to do.
"There's nothing to do, so I'm just relaxing," said one New York-based equities trader at a large global investment bank, who spent most of the day in his pajamas, staying in touch with his boss and clients via phone and email.
Steve Gerbel, who runs hedge fund Chicago Capital Management, said that when he called a Goldman Sachs Group Inc trading desk on Monday, he got to talk to employees from its Salt Lake City office for the first time.
Since markets were closed, Gerbel said he would spend most of the day dealing with paperwork that he typically put on the back burner, and his employees would do the same, or clock out early.
"I predict my office will never be cleaner than it will be today," he said.
The weather also canceled financial conferences, leaving companies that had flown executives into New York over the weekend scrambling to find ways to keep them busy. One firm offered media interviews with portfolio managers stranded in the city after a conference they were attending was canceled.
For operations and back-office staffers, it was a busy day, as workers struggled to keep data centers and company systems up and running.
LIKE HERDING CATS
Earlier on Monday, equities trading executives pressed the stock exchanges to clearly communicate their plans to avoid a repeat of Sunday night's uncertainty.
Market participants and regulators decided late at night on Sunday to shut the stock and options markets, reversing a plan to keep electronic trading going on Monday, leaving some people complaining about confusion.
The biggest problem with the New York Stock Exchange's initial plan to trade exclusively over its ARCA electronic system was that the contingency plan that it had created in March had not been vetted by many brokerage firms, sources familiar with the situation said.
The decision to close the stock and options market came on Sunday night after SIFMA, the Wall Street trade group, held a conference call around 11 p.m. ET (0300 GMT) to debate whether to close, said a brokerage executive, who requested anonymity because he is not allowed to speak to the media.
"It was like trying to corral cats," the executive said.
NYSE spokesman Richard Adamonis declined comment on friction with the brokerage community over the on-again, off-again decision to open trading during the storm.
"Through the storm, SIFMA has and will continue to work with a variety of market participants to ensure smooth market function," spokeswoman Liz Pierce said in an email.
On Monday, the industry tried to avoid a repeat of the confusion. A decision to close the markets on Tuesday had been announced by early afternoon, after an industry-wide call that included regulators, broker-dealers and executives.
BONDS AND IPO PRICINGS
On the conference call on Sunday evening hosted by SIFMA, with big banks, exchanges and other industry representatives, banks pushed for bond markets to open in New York on Monday, at least temporarily, to help secure short-term funding needs for themselves and their clients. The bond markets were open until noon, on an abbreviated schedule.
Many cautious clients took care of funding needs through Wednesday, according to a source at a large global investment bank. If firms or their clients need to get trades done during the rest of the week while markets are closed in New York, they can trade out of bank offices in Asia or Europe, he said.
The stock market's closure means companies that were looking to go public may have to wait. Six initial public offerings scheduled to price later this week will likely have to be pushed back, equity capital markets sources said. They said decisions were being made now between underwriters and the issuers.
"We can't market some of these deals while no one is on the other side of the phone," said one equity capital markets banker at a large Wall Street bank. Some deals may be pushed back to next week after the election, the source said.
Restoration Hardware, the highest profile of the public offerings set to launch this week, is still on track to price Thursday night, a source familiar with the matter said.
Radius Health, which was set to price its $61.8 million IPO later this week, is in a "wait-and-see mode," said Chief Financial Officer Nick Harvey. "We haven't made any decisions yet," he added.
CME Group Inc, the exchange operator, said it would reopen trading in stock-index and interest-rate futures and options Monday evening.
CME will start up equity-index trading at 6 pm ET (2200 GMT), and close it back down at 9:15 ET (1315 GMT) Tuesday to coordinate with the closure of U.S. stock markets.
Was this article valuable?
Here are more articles you may enjoy.