Rural lawmakers worry that $9 billion in annual federal crop insurance subsidies are an easy target for spending cuts in a "fiscal cliff" deal so they're shopping around for a late compromise on a farm bill to protect them.
The chairmen of the House and Senate Agriculture committees already were set to make a sizable contribution to deficit reduction through a new farm bill. There were $2.3 billion in annual cuts to other farm programs and food stamps in a Senate-passed version and $3.5 billion in annual cuts in a measure awaiting House action.
But they hit an impasse last week while trying to merge the bills into a single package. It's the same problem confronting President Barack Obama and House Speaker John Boehner, R-Ohio, who so far are unable to come up with an alternative to the broad wave of automatic tax increases and spending cuts that begin to hit in the new year.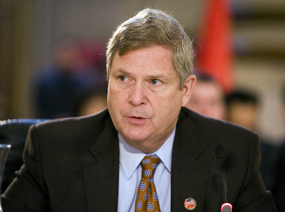 The farm-state leaders hope that if they can agree on a farm bill, the White House and Boehner might include it as a deficit-reducing component of a broader fiscal cliff deal.
While cutting food stamps and other farm programs, both the Senate and House agriculture bills preserve crop insurance subsidies that cover a big portion of farmers' losses due to bad weather. Those subsidies buoyed a strong agricultural economy even through last summer's scorching drought. Committee leaders from both parties say farmers consistently tell them crop insurance is the program they depend on most.
But both bills also create an insurance program that would give farmers additional protection against any kind of revenue losses, such as from a drop in commodity prices. The Senate bill's version would cost almost $3 billion annually, with the House bill a little under $1 billion.
The concern about the fate of crop insurance stems from previous efforts by the Obama White House to target the program for cuts. Obama proposed cutting the subsidies by $760 million a year in his budget proposal last February. Conservatives long have eyed the program as a pot of money that could be used for other things.
Without giving details or numbers, Obama administration officials have made it clear in fiscal cliff negotiations that they see farm programs like crop insurance as a source for savings.
"Reforming farm subsidies, very important to do, lots of room to do sensible reforms in that context. And they can raise substantial amounts of money," Treasury Secretary Tim Geithner said on CBS "Face the Nation."
Agriculture Secretary Tom Vilsack warned the congressional committees last week that, if they don't strike a deal soon, the White House and Republicans working to avert the fiscal cliff may cut farm programs that lawmakers want to protect.
"Don't let somebody else craft the farm legislation who may not fully understand all of the implications," he said.
Sen. Debbie Stabenow, who leads the Senate Agriculture, Nutrition and Forestry Committee, agreed.
"It's one of the many reasons we need to get a five-year farm bill done so people who don't support crop insurance don't come back at it and try to cut it," said Stabenow, D-Mich.
Farmers buy crop insurance to protect against weather-related losses such as drought or flooding. Farmers pay a percentage of the premium cost and the federal government covers the rest. Companies selling the insurance also get direct subsidies from the government.
Both the House and Senate made room for the new insurance program by eliminating a different type of subsidy called direct payments, in which farmers collect money from the government whether they farm or not and regardless of prices or crop yields. Cutting that program would save almost $5 billion annually and contribute to the overall savings in the bill.
Supporters of crop insurance say fewer subsidies would mean fewer farmers would buy coverage.
"Crop insurance proved its value once again this year by helping keep the rural economy on track and helping farmers pick up the pieces after a crippling drought," said Tom Zacharias, president of National Crop Insurance Services, an industry trade group. "Farmers are telling lawmakers to `do no harm' to crop insurance."
Critics say farmers could survive with much less federal help.
Crop insurance isn't farm-state lawmakers' only concern in the fiscal cliff negotiations. Milk prices could double if expiring dairy support programs aren't renewed before Jan. 1. Stabenow said she's also concerned there will be less money for a farm bill next year.
Copyright 2021 Associated Press. All rights reserved. This material may not be published, broadcast, rewritten or redistributed.
Topics Legislation Agribusiness
Was this article valuable?
Here are more articles you may enjoy.