J. Douglas Robinson, chairman of the board and chief executive officer of the Utica National Insurance Group, has been elected 2013 chairman of the Insurance Information Institute (I.I.I.). He succeeds Gregory Ator, president, CEO and chairman, Bituminous Insurance Companies.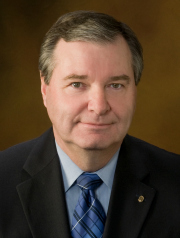 The I.I.I. is an information organization for the insurance industry. It serves as an industry contact to the media, governments, regulatory organizations, universities and the public as a primary source of information, analysis and referral concerning insurance.

Robinson joined Utica National in 1983 as director of Agency Services and since then has served in various roles including Eastern regional marketing manager, general manager of Utica's Risk Management Corp. director of commercial lines sales, senior marketing officer and senior vice president. In 1993 he was promoted to executive vice president. In 1995 he was named president of UticaLIFE and in 1996 he was promoted to president and chief operating officer of Utica Mutual. In 2000, Robinson was named chief executive officer of Utica Mutual and in 2006 he was elected chairman of the board.

Prior to joining Utica National, he was an independent insurance agent.
Robinson is a member of the boards of directors of all Utica National member companies and subsidiaries. In addition to the I.I.I., he serves on the boards of the Property Casualty Insurance Association of America, the Property Loss Research Bureau, and the Mohawk Valley EDGE.
Utica National is headquartered in New Hartford, N.Y. and is among the top property/casualty insurance organizations in the country ranked by net written premium. Utica employs 1,450 people countrywide and sells its products through more than 1,900 independent insurance agents.
Was this article valuable?
Here are more articles you may enjoy.