Starr Companies said it has appointed Eleanor Kitzman as vice president of Starr Insurance Holdings Inc. Kitzman will have regulatory, management and operational responsibilities across the company's domestic and international businesses, according to the announcement.
Kitzman has 25 years of experience in both the insurance industry and regulatory community. Most recently, she was the Texas insurance commissioner, and previously served as executive director of the South Carolina Budget and Control Board and director of the South Carolina Department of Insurance. She has also held management positions in the property/casualty insurance and reinsurance industry.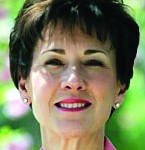 Kitzman was the founder of South Carolina-based Driver's Choice Insurance Services, a specialty automobile insurer formed in response to South Carolina's deregulation of automobile insurance in 1999. She later sold the company.
She served as South Carolina's insurance regulator from 2005 to 2007, when she resigned over a difference of opinion with then-Gov. Mark Sanford over coastal insurance. In 2010, she ran for lieutenant governor in South Carolina but lost in the Republican primary.
In 2011, South Carolina Gov. Nikki Haley chose Kitzman to be director of the South Carolina agency that oversees much of state government budget and operations. Kitzman resigned that post after six months to take a role in government in her home state of Texas.
In July, 2011, between legislative sessions, Texas Gov. Rick Perry appointed Kitzman to a two-year term as insurance commissioner between legislative sessions. The appointment, which was opposed by some Democrats, was never confirmed by the Senate, so her term as commissioner ended at the end of the 2013 regular session on May 27.
"Eleanor's unique combination of skills and experience in law, business and state government will be valuable to Starr as we continue to develop and launch new products and deliver additional services in the marketplace," said Maurice R. Greenberg, chairman and CEO of Starr Insurance Holdings Inc.
Was this article valuable?
Here are more articles you may enjoy.