Near-record snowfall and prolonged extreme cold throughout many parts of the country have caused insurers to pay more than $1.5 billion to more than 175,00 claimants thus far, according to the Insurance Information Institute (III).
With more winter weather still to come, this winter could end up among the top 5 costliest winters since 1980, according to the industry organization. Winter does not officially end until March 19.
Insured winter losses in 2013 were $2 billion.
Insured losses include roof collapses, downed tree limbs and power lines, burst pipes from freezing and auto accidents.
Storm Dumps More Snow on Northeast After Icing Southeast for 2 Days
The $1.5 billion estimate of insured losses covers events occurring between January 1 and February 21, 2014 with more than 175,000 claims paid to policyholders, according to PCS, a division of Verisk Analytics. The figure includes only two of the four 2014 winter storms to date.
The III said that many companies have also sustained business interruption and supply chain losses due to severe travel and transportation delays and business closings.
Snowy, Cold January Was Deadly and Costly: Aon
Dr. Robert Hartwig, president of the I.I.I. and an economist, said that despite the severity of this winter, losses are well within the magnitude planned for by insurers, noting that the insurance industry entered 2014 in rock solid financial condition, with record claims paying capital.
The losses have been in several regions.
"While most winter storm losses occur in northern and mountainous regions of the United States, this spate of severe cold has also affected millions of home and business owners in the south, many of whom were unprepared for such extreme conditions," said Hartwig.
Severe winter weather, including snow, sleet, freezing rain, extreme cold and ice damage, accounted for 7.1 percent of all insured catastrophe losses between 1993 and 2012, placing it third behind hurricanes and tropical storms (40 percent) and tornadoes (36 percent) as the costliest natural disasters, according to Hartwig.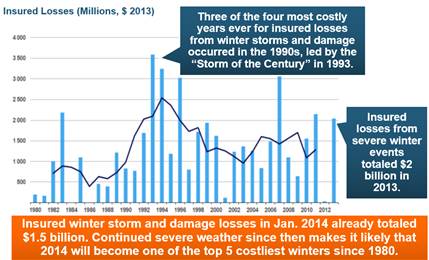 Related Articles
Was this article valuable?
Here are more articles you may enjoy.