With 40 percent premium growth in 2013, Berkshire Hathaway climbed five spots in the U.S. excess and surplus lines (E&S) ranking by SNL Financial, while QBE scaled back its North American operations and fell three places.
Berkshire Hathaway Inc. is now the 13th-largest E&S writer in the nation, SNL reported. Berkshire's nearly 40 percent growth during represented the largest percentage growth of the top 30 market players. It was also well above the 7.6 percent increase for the U.S. property/casualty industry as a whole.
SNL said it analyzed the state pages of statutory statements filed by individual insurance companies and summed the premiums written in states where the insurer is not licensed or admitted. These amounts were then aggregated at the group level. For instance, Berkshire's total reflects its National Fire & Marine Insurance Co., General Star Indemnity Co. and Mount Vernon Fire Insurance Co. units as well as a few others that write E&S business.
Berkshire formed an operating segment in April 2013, known as Berkshire Hathaway Specialty Insurance, devoted to large E&S risks. BHSI, which is based in Boston but has regional underwriting offices in Atlanta, Chicago, Los Angeles and New York, counted 82 employees as of year-end 2013, according to public filings. While currently focused on the non-admitted market, BHSI eventually plans to write on an admitted basis as well, according to Berkshire Hathaway Inc.'s 2013 Form 10-K. BHSI offers a variety of coverage, including commercial property, casualty and professional liability lines.
While Berkshire has been growing, others have been retrenching. QBE Insurance Group Ltd., for example, went from writing more than $1 billion in direct E&S premiums in the U.S. in 2012 to only $777.0 million in 2013. In general, the Australian insurance group has seen its North American operations stumble lately. The combined operating ratio for North America stood at 115.8 in 2013, well above the 106.8 recorded in 2012. The final 2013 figure also exceeded guidance QBE issued in early December 2013, when it estimated that the ratio would be "around 111."
QBE has put a remediation plan into place, part of which has entailed scaling back on premium, according to SNL's report. Gross written premium in the North American segment fell 11 percent in 2013, according to slides from a QBE February presentation. But QBE says E&S remains a strategic focus for the North American division. In its 2013 earnings release, the company said it is "committed to resetting its [North American] business mix in 2014 to consolidate its position as a commercial specialty insurer."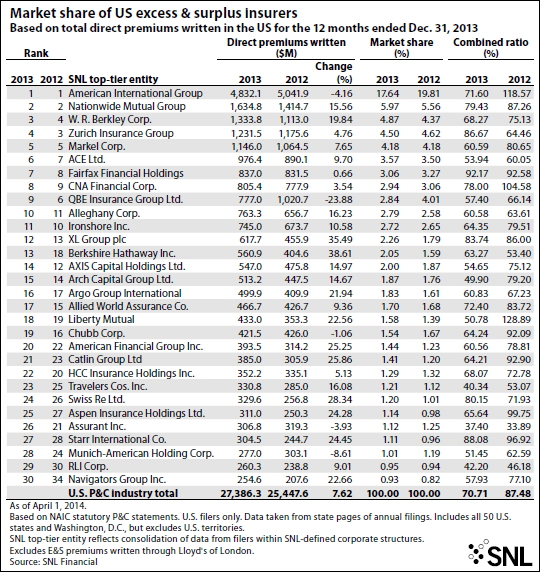 Related Articles
QBE Jumps on Premiums, North American Unit Outlook: Sydney MoverBerkshire Hathaway Specialty Exec on Acquisitions, Expansion Plans
SNL: E&S Premiums Up in 2012; Top 30 Carriers Ranked
Was this article valuable?
Here are more articles you may enjoy.