Wells Fargo & Co.'s Rural Community Insurance Co. is now the largest writer of multiple peril crop insurance after picking up five percentage points of market share in 2013 to surpass ACE Ltd., according to a report by SNL Financial.
Rural Community reported direct premiums written in multiperil crop insurance in 2013 of $2.34 billion, compared to $1.72 billion in 2012, SNL data shows. Its market share was 20.03 percent, compared to 15.05 percent during the prior year.
ACE's market share remained flat at 18.40 percent in 2013, compared to 18.74 percent in 2012.
Allianz SE's Fireman's Fund Insurance Co. fell out of SNL's crop insurance market share rankings in 2013 after ranking fifth in 2012. The company reported negative $211,184 of direct premiums written for crop insurance for 2013, compared to $859.5 million in 2012. In its 2013 annual statement, Fireman's Fund attributed the reduction in its crop business to a change in a reinsurance agreement with Rural Community. The agreement lowered the quota share with Rural Community to 20 percent from 50 percent, and Fireman's Fund ceased writing direct premium in the crop business.
XL Group Plc picked up significant market share in 2013, reporting direct premiums written of $51.9 million in 2013, compared to $4.9 million the year before. In February 2014, the company acquired Global Ag Insurance Services, with which it had previously launched a platform in the western United States.
Source: SNL Financial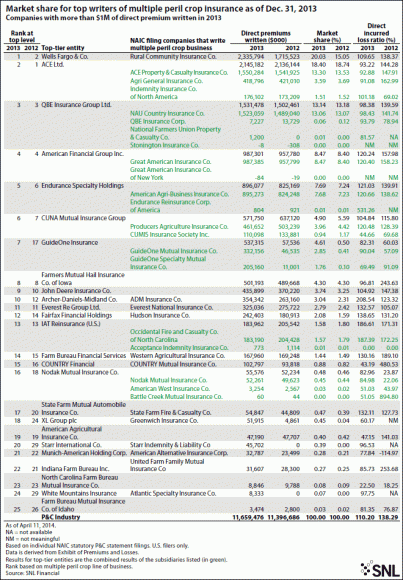 Was this article valuable?
Here are more articles you may enjoy.