CSAA Insurance Exchange, which sells private auto insurance to AAA members in about 25 states, experienced double-digit year-over-year growth in personal auto business, far outpacing other top writers in the second quarter, a new analysis by SNL Financial shows.
SNL said CSAA Insurance Exchange logged $553.4 million in private auto direct premiums written during the quarter at the group level as consolidated by SNL. That represented the greatest year-over-year increase in private auto that current members of the group collectively achieved in any quarter in at least the last 12 years, according to the analysis. The group's 23.07 percent growth was primarily attributable to CSAA Insurance Exchange and CSAA General Insurance Co.
GEICO Corp. continued to grow premiums at a fast pace. The Berkshire Hathaway Inc. unit, which ranks No. 2 in overall market share for private auto, had the second-highest year-over-year growth rate at 10.18 percent in the second quarter, with direct premiums written totaling $4.87 billion for the quarter, versus $4.42 billion in the year-ago period.
Allstate Corp., which lost its second-place market share position to GEICO in 2013, came in next with $4.71 billion in private auto direct premiums written.
GEICO's 10.18 percent year-over-year premium growth during the second quarter lagged the 10.51 percent jump it logged in the first quarter and also fell short of the 11.30 percent hike in 2013.
Allstate grew at a 5.67 percent year-over-year rate in the second quarter. The growth was led by Esurance Insurance Co.and its affiliates.
According to data compiled by SNL, Farmers Insurance Group of Cos.'s private auto premiums continued to slip in the second quarter, allowing Liberty Mutual Group Inc. to move up a rank.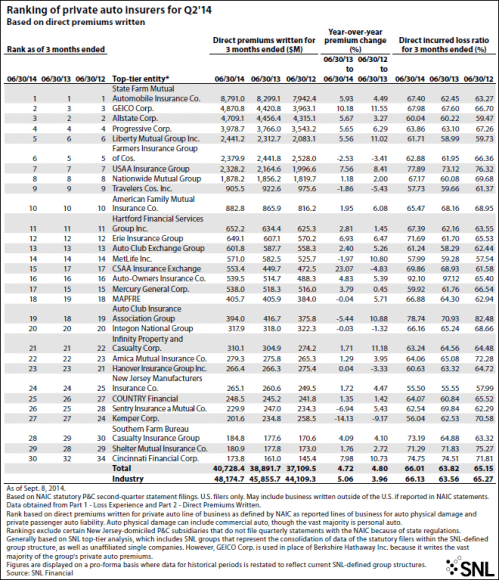 Topics Carriers Auto Berkshire Hathaway
Was this article valuable?
Here are more articles you may enjoy.