Commercial insurance prices grew on average about three percent in the 2014 third quarter compared to the previous year. That matched last quarter's uptick and halted more than a year of consecutively falling quarterly price hikes, Towers Watson reported in its latest pricing survey.
As before, however, some lines performed much better than others.
Employment practice liability followed by commercial auto produced the biggest price increases, Towers Watson said. Commercial property stayed static after facing a slight price decrease in the previous quarter. Most other lines saw price dips.
Also of note: workers' compensation and some specialty lines experienced slower price hikes than in previous quarters. Property price stabilization helped offset some of this, according to Towers Watson.
As well, the results pointed to more moderate price jumps for large and specialty accounts versus small and mid-market accounts. Also, as Towers Watson noted, price increases mirrored the slight uptick experienced in the 2014 second-quarter.
The results in this latest Commercial Lines Insurance Pricing Survey (CLIPS) come after price increases of between 6 percent and 7 percent in the second part of 2012 and the first half of 2013, Towers Watson noted.
Alejandra Nolibos, director in Towers Watson's Americas PC practice, interpreted the Q3 results as a pricing lull.
"After many quarters of moderation in price increases, we are seeing a lull," Nolibos said.
Nolibos said that property was a standout in this regard, after price changes for the sector "had reached negative territory."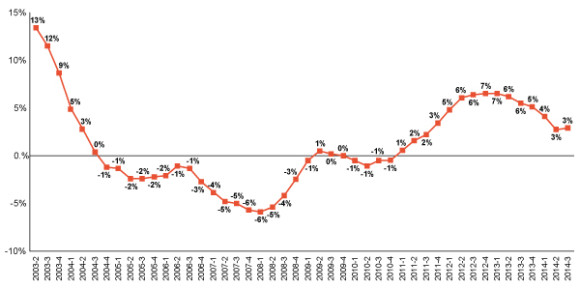 Source: Towers Watson
Was this article valuable?
Here are more articles you may enjoy.