Google Inc. sees Detroit's snow as a bigger barrier than Washington's regulators for its self-driving car.
The technology giant doesn't intend to offer a self-driving car to areas where it snows in the near term, Chris Urmson, director of Google's self-driving car project, told reporters Wednesday in Detroit. Speaking at the annual Automotive News World Congress conference, he also doesn't think the National Highway Traffic Safety Administration will stand in the company's way.
"We're within a couple of years, probably within five years," Urmson said of Google's outlook for fielding a fully autonomous car on public roads. "NHTSA could certainly reactively ban it, but we don't think that they need to grant permission ahead of time."
Google is seeking partners to help realize co-founder Sergey Brin's vision of safer and more efficient mobility. For now, the Mountain View, California-based company plans a pilot program in its home state with about 100 cars similar to the two-seat, egg-shaped prototypes it showed off in May, which topped out at 25 miles (40 kilometers) per hour and had no steering wheels.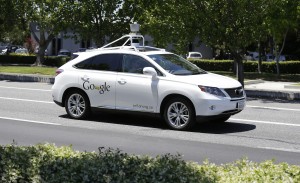 Some of the automotive partners Google has worked with in developing its self-driving car include Robert Bosch GmbH, Continental AG, LG Electronics Inc., ZF Lenksysteme GmbH, FRIMO Group GmbH, Prefix Corp. and Roush Enterprises, Urmson said.
Google has reduced to the size of coffee cups the radar sensors and lasers its cars need to navigate roads by themselves, Urmson said. While the lasers that sat atop some of its early prototypes cost about $75,000, prices would drop dramatically once produced at scale, he said.
Chicken Bucket
"There's a lot made about the fact we have this spinning, Kentucky Fried Chicken bucket of lasers on the roof of our car," Urmson said. "It's ugly, it's too big, too expensive. We've always known that had to go."
The smaller sensors Google has been developing internally have improved capability to see through fog and rain, and night- driving is not a problem. Still, they won't be a good fit for Detroit, at least initially.
"It turns out in Mountain View, it doesn't snow," he said. "There are a lot of places where we can get an initial deployment, understand the tests, see how people use it and then push the technological boundaries into these more challenging situations."
Automakers have mixed opinions about pursuing a driverless future. Daimler AG's Mercedes-Benz envisions transforming the car into a rolling, autonomous luxury lounge. It previewed that future with a display of its F 015 concept car at last week's Consumers Electronics Show.
No Ford
Ford Motor Co. Chief Executive Officer Mark Fields at the same show said his company is focusing on less-expensive features that will assist in driving. Another carmaker probably will introduce a self-driving vehicle within a half-decade, he said.
Fields's predecessor at Ford, Alan Mulally, was named to Google's board in July, lending auto expertise to the technology company. Still, Urmson said Google's ambitions are not to become the next Ford.
"We have some skills in making the self-driving technology, but the automotive world has spent the last 100 years perfecting the process of building vehicles," Urmson said. "We're definitely not in the business of making cars."
Related:
Copyright 2021 Bloomberg.
Was this article valuable?
Here are more articles you may enjoy.