California has new rules that govern the testing of self-driving cars on public roads.
The rules, approved Monday by state attorneys, require a human to be in the driver's seat when a computer takes control during testing. They're a response to a 2012 law that, in future, will allow personal use of self-driving cars.
Google and other companies already have sent computer-driven cars hundreds of thousands of miles in California.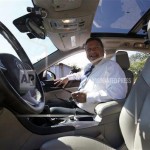 The regulations, which take effect Sept. 16, also cover insurance, licensing and other issues.
They're an attempt to catch up with technology that could be commercially available by decade's end.
Currently driverless cars are a gray area of the law – after all, a human driver has been a basic assumption since cars were invented.
Copyright 2020 Associated Press. All rights reserved. This material may not be published, broadcast, rewritten or redistributed.
Was this article valuable?
Here are more articles you may enjoy.