Warren Buffett's annual reports to Berkshire Hathaway Inc. shareholders have their own Kremlinology. Investors hunt for any hint about who will succeed the 84-year- old chief executive officer, much as students of the Soviet Union sought clues from its opaque bureaucracy.
The billionaire left the world guessing on Saturday by reiterating that the Omaha, Nebraska-based company's board has the "right person" for the job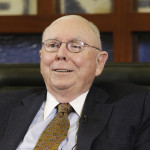 without identifying the executive in the document. Vice Chairman Charles Munger, 91, provided more fodder for speculation. In a separate passage, he highlighted two Berkshire managers — Ajit Jain and Greg Abel — as examples of "world-leading" executives who are in some ways better than Buffett.
"Charlie just brought the two guys out to the balcony of the Kremlin and had them wave to the crowd," said Jeff Matthews, an investor and author of books about Berkshire, including one on succession. "He wouldn't have done it if he didn't have a reason."
The comments put a spotlight anew on two managers who have assiduously avoided it. Jain, 63, runs Berkshire's namesake reinsurance operation, which has provided a key source of funds for several decades for Buffett to invest. Abel, 52, oversees the energy-utility business. The unit has increasingly become a place for Berkshire to spend its mounting cash hoard on projects and acquisitions that earn reliable returns.
Given how important both are to the company's success, it was little surprise that Munger mentioned them, said David Rolfe, who manages about $11 billion including Berkshire shares at Wedgewood Partners Inc. Jain and Abel "have always been on my shortlist," he said.
Large Risks
Jain, in many ways, symbolizes Berkshire's growth over the past five decades under Buffett from a struggling textile maker into a $363 billion holding company. One of the billionaire's early acquisitions was an insurer in Omaha. He used the premiums held before paying claims — known as float — from that business and other insurers to fuel his stock picks and buyouts of retailers, manufacturers and one of the largest U.S. railroads.
Born in India, Jain joined Berkshire in 1986 and led a push into property/casualty reinsurance, or coverage that insurers buy to help them shoulder the costliest risks. Working in Stamford, Connecticut, he built a business that now accounts for the largest portion of Berkshire's $84 billion in float. He has orchestrated deals tied to everything from hurricanes and asbestos liability to $1 billion sweepstakes and baseball player Alex Rodriguez's health.
Buffett said in 2011 that he thinks of Jain as part of his family and that if the reinsurance executive wanted the CEO post, "the board of directors would probably put him in there in a minute."
Abel's rise is more recent and reflects a shift at Berkshire toward regulated, capital-intensive businesses like power companies and the railroad. An accountant by training, Abel hails from Canada and joined Berkshire when Buffett purchased the majority of an Iowa utility-holding company in 2000.
Nevada Deal
Under Abel's watch, that business — now called Berkshire Hathaway Energy — has expanded through acquisitions and reinvestment. The company operates natural gas pipelines that stretch from the Great Lakes to Texas and electric utilities that keep the lights on in states including Oregon and Utah. It's also one of the largest producers of wind and solar energy in the U.S.
Abel's star rose even more in 2013. That year he orchestrated a deal to buy Nevada's largest electric utility and was named to the board of H.J. Heinz, the ketchup maker that Berkshire took private with buyout firm 3G Capital.
In his letter, Munger highlighted the importance of the insurance business and the utilities in explaining why Berkshire would continue to thrive. That momentum is in place even if Buffett were to leave tomorrow, his successors are unexceptional and the company never makes another large acquisition, Munger wrote.
'World Class'
"Under this Buffett-soon-leaves assumption, his successors would not be 'of only moderate ability,'" he said. "For instance, Ajit Jain and Greg Abel are proven performers who would probably be under-described as 'world-class.' 'World- leading' would be the description I would choose. In some important ways, each is a better business executive than Buffett."
Both, Munger added, would stick around no matter what they were offered by a competitor. And neither would alter much the tenets that have allowed Berkshire to thrive, like favoring the use of cash for acquisitions, rather than stock, and giving managers of operating units lots of autonomy, he wrote.
In his own letter, Buffett spent more time discussing the qualities he was looking for in his successor. He said the person would need to focus on allocating capital among dozens of subsidiaries and have a "broad understanding of business and good insights into human behavior." He also said the person would need to put the business before himself and have the ability to "fight off the ABCs of business decay, which are arrogance, bureaucracy and complacency."
Better Job
"The board and I believe we now have the right person to succeed me as CEO," wrote Buffett, who is also chairman. "In certain important respects, this person will do a better job than I am doing."
As an extra assurance, Buffett reiterated that when he steps down, his son Howard, a Berkshire director since 1993, should become the company's non-executive chairman. In that role, he'll be a "safety-valve" if the next CEO isn't up to the job and needs to be dealt with forcefully, the billionaire wrote.
He also told shareholders to expect large stock buybacks or dividends in a decade or two, because the company will be too big to invest its capital intelligently. Buffett has long rebuffed calls for a dividend, saying that Berkshire has been better off using its funds to acquire businesses, reinvest in operations or buy stocks.
Railroad Delays
Last year, the company generated a record $19.9 billion in earnings as operating businesses like the energy utilities and manufacturing units posted higher profit, Berkshire said Saturday. Fourth-quarter profit slipped 17 percent as investment gains narrowed and underwriting results deteriorated at insurance units.
One large unit, the BNSF railroad, struggled with service delays last year and got called out by Buffett for disappointing customers. Its executive chairman, Matt Rose, 55, was absent from the report. Buffett had previously praised him in each letter since BNSF was acquired in 2010.
Investors could be reading too much into Munger's words, said Tom Russo, who oversees about $10 billion including Berkshire shares at Gardner Russo & Gardner. Both Abel and Jain have made lots of money for Berkshire over the years, and the vice chairman may just have been "singling them out for good work done," Russo said.
Larry Cunningham, a law professor at George Washington University and author of "Berkshire Beyond Buffett," said that it's not just Munger's opinion that matters. The whole board will eventually have to make a choice, he wrote in an e-mail Saturday.
Less Fun
"If Munger is suggesting there are exactly two, that is also both unlikely and a real slap in the face to others who warrant consideration, especially Matt Rose," said Cunningham. "My guess is that the board retains the flexibility to name any number of people."
If the choice is truly down to Abel and Jain, the decision between the two could be about when Buffett steps down or dies, said Matthews, the investor and author. Buffett said in his letter that Berkshire CEOs should be young enough to spend at least a decade at the helm. Either way, the speculation is sure to complicate things for both managers.
"Every time they talk to a reporter, the question's going to be, 'OK. Do you think you're the guy? Do you know you're the guy?" Matthews said. "Their lives are now infinitely more complex and less fun."
–With assistance from Zachary Tracer in New York.
Copyright 2021 Bloomberg.
Was this article valuable?
Here are more articles you may enjoy.