Visiting his father in jail was a "blessing" of sorts for Hank Haldeman, son of H.R. Haldeman, President Nixon's chief of staff who was convicted in the Watergate scandal and spent 18 months in jail.
He would bring lunch for the two of them and they would sit together in the jail yard.
"In many ways, I treasured that time because I had him alone and I had him for several hours. We talked about a whole lot of things then. I think we got to know each other much better during that time as well," recalls Haldeman of that time with his father.
H.R. Haldeman's oldest son, Hank Haldeman, is executive vice president and director with The Sullivan Group in Los Angeles. He is also current president of the National Association of Professional Surplus Lines Office (NAPSLO).
In an exclusive, wide-ranging interview with Andrew Simpson of Wells Media Group, Haldeman discusses his father, Nixon, politics, Watergate, the Haldeman name and more. He also talks about how his father's advice resulted in him entering the insurance business.
The interview was broadcast Thursday; the full interview and excerpts are now available for viewing on a special Haldeman Interview page of InsuranceJournal.com.
"We'd sit there for two or three hours. There's absolutely nothing you can do except sit and talk. I don't know how many people have that kind of time. Maybe if we had been fishermen or something and we would have had the time out, sitting in a boat. You don't really have that much time with a parent, unless you make it. You just sit down and you just talk about whatever topics come up," Hank Haldeman says.
That is one of the memories Hank Haldeman shares in an interview that touches on what it was like growing up with a father in the White House who later went to prison for his role in the Watergate scandal.
Don Draper
Before H.R. Haldeman teamed with Richard Nixon, he worked for the J. Walter Thompson ad agency during the '50s and '60s in New York and Los Angeles. He was Don Draper, television's "Mad Man" ad executive, according to Haldeman's son who remembers those years.
"He was that guy. He was, basically, the Don Draper guy in terms of putting on the hat, and going out, and taking the train down. We lived in Connecticut," recalls Hank.
He was Don Draper, with one big difference.
"I have to explain– except for the drinking, and the smoking, and the womanizing part, basically, he was Don Draper," Hank says. His father was a devout Christian Scientist.
After Prison
The Watergate scandal resulted in Nixon's resignation in his second term in 1974. Haldeman was convicted of perjury and conspiracy to obstruct justice. He was sentenced to Lompoc prison in California for 18 months.
After H.R. Haldeman got out of prison, he went into the commercial real estate development business and invested in some restaurants. Hank believes that while his father enjoyed his work, he was not as passionate about it as he was about politics. It was not until he started working with young entrepreneurs including Hank himself and helping them achieve their dreams that his father seemed to regain a similar passion for his work, according to his son.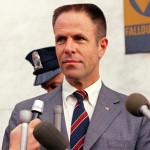 Haldeman's father was also a mentor to him. Hank had started his own music production and publishing company, with his father as an investor, but that didn't work out as hoped. His father gave him some critical advice, which led him to his career in the wholesale insurance business.
Entry Into Insurance
"He basically said, 'You know a lot of people through yourself and the family and friends and all that stuff. Go talk to as many people as you can. Don't interview, just go talk to them and find out what their business is like, what it's like functioning in that business. What would it be like if I were to join your business? Not, do you have a job for me?'
So Haldeman did as his father suggested and ended up speaking with people representing 25 different industries. As part of the process, he talked with friends and family friends who were involved in the wholesale end of the insurance business and was impressed.
"I liked how they described their jobs and the negotiations they are involved in and all that stuff. It attracted me. It looked like fun. It looked like stimulating. It looked like it performed a valuable function for the economy. That's how I ended up in it. But I also enjoyed just the process of finding that," Haldeman says.
The topics covered in the Haldeman interview include:
Related:
Was this article valuable?
Here are more articles you may enjoy.